You know you love free books. Who doesn't? Here's two ways to win some stellar new reading material from some amazing YA and MG writers–but move quickly! Deadlines are coming up fast.
Ending first (as in, ENDING TOMORROW): The crew at the Enchanted Inkpot has put together an absolutely amazing giveaway for the holidays: our First Annual Inkies Giveaway Extravaganza!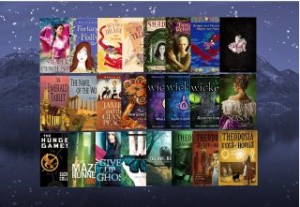 Each row represents a gift basket some lucky poster is going to win. Row 1: Fairytales and Folklore; Row 2: Adventure and Witchcraft; Row 3: Ancient Curses, Modern Ghosts, and Post-Apocalyptic Tales. And that's not all! Here's the contest description from the Enchanted Inkpot site:
"There will be a grand prize winner and 2 runner ups. Winners will be based on the following criteria:
1. The Grand Prize winner will have first pick and choose one of the book gift baskets AND will also win a $25 gift card to Powell's Books AND a copy of ICE by Sarah Beth Durst. The winner will be chosen based on who provides the most online promotion points for our contest, via blog, facebook, twitter, etc. One point is awarded for the type of promotion and the number of times such promotion is provided. For example, a person who tweets and blogs about it for all 14 days of the contest will earn 28 points. Honor system is in place so you will be required to tally up your points yourself and we'll check'em. YOU MUST COMMENT ONLY ON THIS ORIGINAL CONTEST POST IN ORDER TO QUALIFY.
2. Second runner up will choose from the remaining 2 baskets. The winner will be the person who comes in second with the most online promotion points.
3. Third runner up will win the last remaining book gift basket and will be chosen from a lottery. Anyone can enter the third prize drawing. All you have to do is answer one of the following questions. What MG/YA fantasy would you like to read over the holiday break? What fantasy book most reminds you of the Holiday or New Year season?
Contest ends on December 9th, 2009. And our apologies, but due to the large size of the prizes, the contest is only open to US and Canadian residents. Don't forget, all contest entries are accepted only in the comments section of this contest post. Comment as much as you like and help spread the word! Good luck everyone!"
And as you have no doubt noticed, TODAY IS DECEMBER 8TH! Get moving, people! You have mere hours to comment, post, and generally rack up some crazy online promotion points!
Ending soon (as in, MOVE IT! We don't have forever, people): The oh-so adorable Lindsay Eland's super-sweet debut, Scones and Sensibility, comes out in two weeks. You can get your hands on a copy straight from Linds herself by entering the SUPER-FABBY SCONES AND SENSIBILITY CHALLENGE at Lisa Amowitz's blog, Why A?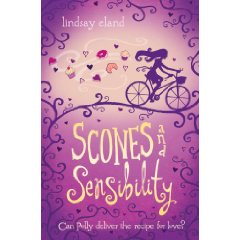 Scones and Sensibility is the story of Polly, a young Jane Austen-obsessed would-be matchmaker whose efforts to bring together lonely people in her seaside hometown don't precisely pan out as expected. Linds is a critique group friend of mine, and having read this story from its early stages, I can tell you it is an absolutely delicious gem of a book.
To enter to win your very own copy (or, for second and third prize, a critique from at least one member of our bloodthirsty critique circle), follow Lisa's blog, Why A? and leave a comment describing an ill-conceived love match, set-up, or blind date in 2-3 paragraphs or so. Humor, Lisa says, is encouraged.  The contest will close on December 22nd, or after the 50th entry, whichever comes first. Have fun!