Calling all people who like weird, cool stuff.
One of my favorite museums, the City Reliquary, needs help right away to stay afloat. I know there are a lot of organizations asking for money right now, but bear with me and think about setting aside, I don't know, your Starbucks money or something for a couple days and donating it to a great cause that isn't likely to get a lot of press.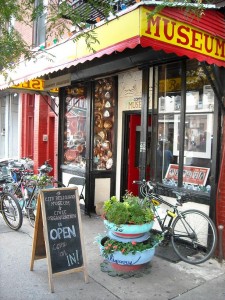 The City Reliquary is a cabinet of curiosities-style museum housed in a Williamsburg storefront in Brooklyn. It started out as a ground floor apartment window at the corner of Grand and Havermeyer Streets, just a few blocks from its current location on Metropolitan Avenue in Williamsburg.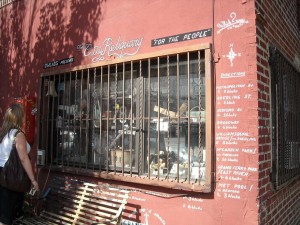 Passersby who stopped for a look could push a button and hear a recorded voice guide them through the collection assembled there. The window's still there, and still full of a fascinating assortment of Curious and Nifty Stuff. The white lettering you see to the right of it gives directions to nearby landmarks.
The Reliquary moved to its current location at 370 Metropolitan four years ago. In the front room there's a big jar for whatever donation you feel like making, then you go through a turnstyle into rooms packed with strange collections of wonderful ephemera. World's Fair memorabilia, a Miss Subways retrospective, an entire Chinatown newsstand.
It's a true gem, staffed by volunteers and surviving on donations and grants, and it's in trouble.
Evidently over the last couple of years they were awarded some grants they have been unable to collect, and they've been scraping by month to month. It seems this strategy's just reached the end of its viability, which has forced them to look at what it will take to really keep the museum alive. The first, most critical goal they've set is to raise $20,000 by March 1 to keep the museum doors open. Visit the site at www.cityreliquary.org to learn more about the museum, and to donate. You can join as a member, or you can scroll to the bottom of the donation page and give any amount you can spare.
Every now and then, here and there throughout the world, you stumble upon treasures . After ten years of living in New York, I still experience this weekly. Instead of crossing a street I pass every other day, I make a right turn just for the heck of it or because I have ten whole minutes of my lunch break left, and I find myself someplace I've never been staring at something I promise myself I will remember. I tell myself I will definitely visit again, when I have more time or the light is better or I have a camera. Sometimes I write it down so I won't forget. Occasionally I make it back. More often I don't. It's just the way of strange places, once found: sometimes you go back and sometimes for one reason or another you never manage find them again, which is kind of okay as long as you know others can stumble upon them tomorrow or the day after, just as you did. But strange places also have the tendency to be short-lived, ephemeral. The quirky and special things throughout the world survive because the quirky and special people who find them and love them keep them afloat. If we fail them, they disappear. I hope this one doesn't go away.