A couple days ago I was hauling home my most recent bagful of Amazing Stuff found at SoHo's Housing Works Bookstore and it occurred to me that my used bookstore finds might make for some interesting posts. Here, therefore, is the first installment of Bookish Treasures, featuring the incomparable Sprocket, who likes to curl up with a good book so much she often finds it necessary to actually lay on or near them, especially if I am trying to take pictures.
AIRSHIP ANDY, OR THE LUCK OF A BRAVE BOY by Frank V. Webster.
Found this one while on a shopping excursion to an antique mall near Kansas City, Missouri, with my mother-in-law, Susie. Inscription reads: LEROY TATHWELL, CHRISTMAS 1928. Random sampling from Airship Andy's Table of Contents: Tramping It; John Parks, Airship King; Jiu-Jitsu; A True Friend; and A Hopeful Clew.
Random sampling from the list of other Books for Boys available from Cupples & Leon Company, printed facing the table of contents: Tom, the Telephone Boy; Bob, the Castaway; The Newsboy Partners; Bob Chester's Grit; Ben Hardy's Flying Machine; Dick, the Bank Boy; and Darry, the Life Saver.
The Gentleman's Letter Writer: A New Letter Writer for The Use of Gentlemen with Applications for Situations and a Copious Appendix of Forms of Address, Bills, Receipts and Other Useful Matter.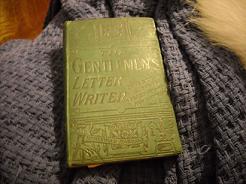 This was a Housing Works find. From the series of Routledge's Household Manuals, which also includes The Ladies' and Gentlemen's Letter Writer, The Commerical Letter Writer, The Ladies' Letter Writer, The Lovers' Letter Writer, and The Child's Letter Writer.
In case you are not familiar with the very useful article that is a Letter Writer, here's what you've been missing. It's a little manual that contains templates for letters on every subject you could possibly need to write a letter about, including blanks to be filled in with the specifics of your particular correspondence. Here is an example: this is Letter LXXIV, Another, from One Single Man to Another from the three options given should one need to compose an Invitation to a Pic-Nic Party.
London, Aug 15th, 18–
DEAR —,–I am commissioned by Mrs. — to press you into the service for a pic-nic to —. You are requested to bring your cornopean, as — has volunteered to bring one or two who do a little in the musical way. Mind, the –th is the day, for you always forgot. So no more at present from
Yours ever,
(———)
To —–, Esq.
Random sampling from the Table of Contents: Clergyman, letter about rent; College, from a young man at Oxford to his father; Colonies, letters from; Matrimonial, warning against a doubtful match; Matrimonial, from a man-servant to a maid-servant; Gold-diggings, letter from. A very useful book, indeed. Also, it turned out to be an Oysterish book, in that it contained an additional treasure inside it, but I think I will save that for a future series on Interesting Things Found in Oysterish Books.
Wonders of Florence (the Medici Art Series No. 3) by Joseph Fattorusso.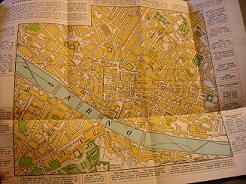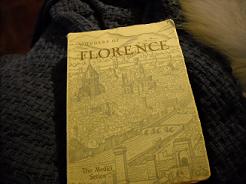 From 1956. Another Housing Works find, another oysterish book. Pretty sure I found this one on the $1 rack. Beautiful glossy interior with lots of photos and a gorgeous fold-out map at the back.
This book and the Letter Writer have both started projects percolating in the  dusty back corners of my mind. Probably Nagspeake projects. I suspect Deacon and Morvengarde, the mail-order catalogue, carries plenty of Useful Books like these.
The Warlord of the Air, by Michael Moorcock
Just look at that cover. Is that beautiful, or what? Also it has that fantastic used book smell. You know that smell? I love that. Found this one at that same flea market in Missouri.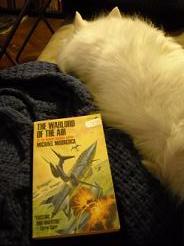 Geographia's 5-Borough Pocket Atlas of New York: 90 Colored Maps, Complete Street Index (Manhattan/Bronx/Brooklyn/Queens/Richmond
This one was a Housing Works find. I'm a sucker for a good atlas.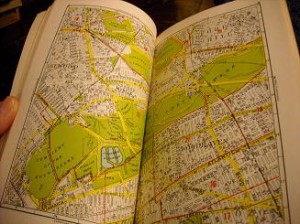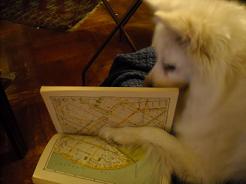 So is Sprocket.
So that's this week's selection of bookish treasures. Here's to the wacky stuff that survives in attics and basements and in the dustiest, most difficult-to reach shelves of a used bookstore. Seek it out and rescue it!