First, the free stuff, because I know that's what people really want to know about. The Enchanted Inkpot turns one year old this April, and in honor of this very important anniversary, the Inkpot has put together two very, very cool giveaways this month. The first ends April 14–THAT'S TODAY, PEOPLE!–with a winner announced on the 16th, along with the prizes for the second contest.The best part is this: all you need to do is comment on this post right here and tell the Inkpot about a middle-grade or young adult book you read that you'd recommend. A winner will be chosen at random, and here's what that winner will get:
Theodosia and the Eyes of Horus by R.L. LaFevers (signed hardcover)
Shadow by Jenny Moss (signed hardcover)
The Boneshaker by Kate Milford (signed ARC – hardcover comes out May 24, 2010!)
Brightly Woven by Alexandra Bracken (ARC)
Where the Mountain Meets the Moon by Grace Lin (signed hardcover)
The Runaway Dragon by Kate Coombs (signed hardcover)
Faery Rebels: Spell Hunter by R.J. Anderson (signed hardcover)
The Unnameables by Ellen Booraem (signed hardcover)
Possessions by Nancy Holder (signed paperback)
Further info to be found at the Enchanted Inkpot. Comment and win! How easy is that? And, in a convenient segue to Happy Thing Number One, I will include one of these sweet posters with the ARC I'm contributing: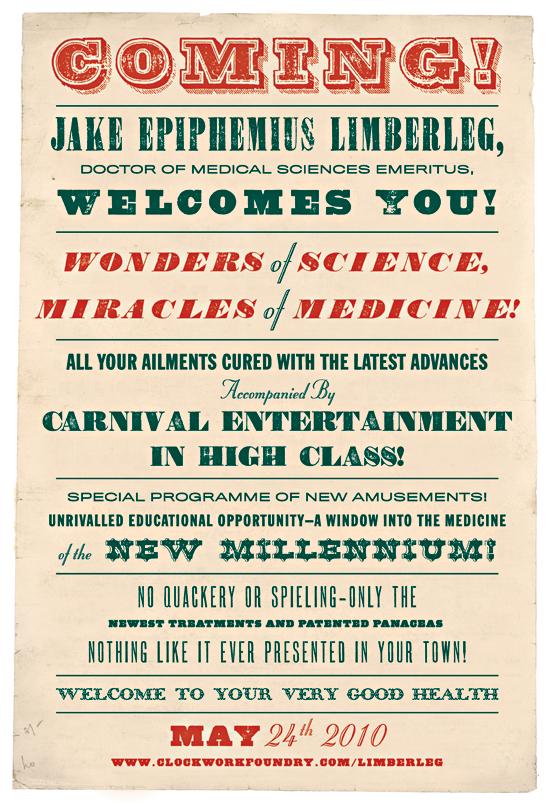 Don't go crazy looking for info at that link yet. The posters got here so fast the page isn't live yet…but it's coming. This, by the way, is text from The Boneshaker: it's the handbill announcing Jake Limberleg's Nostrum Fair and Technological Medicine Show to the town of Arcane. In a further by the way, the company that did these is called Contact, and you can find them here and reach them at ideas@gomakecontact.com. They are unbelievably nice, can work within even a meager budget like mine, they arranged printing and delivery, and the turnaround was super-fast. Speaking of which, if you know a bookstore or coffee shop or other random location that might be willing to post one, shoot me an email or comment and I'll send some to you. I'll take all the help I can get in getting the word out.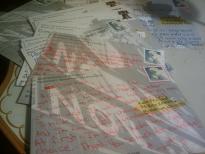 Other happy news! A couple of weeks ago I did my first school visit at Yonkers Montessori Academy. I spoke with Mrs. Audevard's 6th grade class, and Ms. Governali's 7th/8th grade class. It was an absolutely wonderful first experience: the kids, the teachers, and the school were unbelievably welcoming and enthusiastic. And a couple of days ago, I went to my new PO box for the first time and discovered they'd sent me mail!
We'd talked about the idea of crossroads, and the kids each wrote me about a crossroads they'd experienced in their lives. Lots of them asked if I'd ever had to face a difficult crossroads like the ones they had. Needless to say, the answer is of course. And it's often true, as several of my new correspondents suggested, that sometimes choices that seem like no big deal turn out to be far more important than they seemed at the time. The reverse is also true: sometimes a choice that seems like it ought to be no big deal can be just as hard to make as one you know will have lasting consequences. Because every choice means taking a chance or  giving something up, and those are never easy things to do.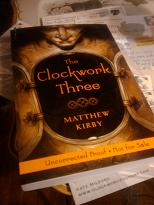 Lastly but most excitingly, a very cool thing happened to me a little bit ago. A friend of mine who happens to be in the book buying business emailed me that she'd gotten an arc that she thought was right up my alley. The next time I stopped by her store to visit, she handed me an advance review copy of Matthew Kirby's gorgeous debut, The Clockwork Three. This was cool for several reasons: firstly, it is right up my alley; secondly, it is a flipping beautiful ARC; and thirdly, I'VE READ THIS BOOK AND IT'S ABSOLUTELY FANTASTIC. I met Matt Kirby via the SCBWI message boards, and we've exchanged a couple stories and a couple manuscripts over the last year or so. Matt's absolutely a lovely human being and a tremendous writer, and you should really mark your calendars for the release of this, his first novel, in October. (More detailed review to come a little closer to the release date.)
So those are my happy thoughts for this week! Stay tuned for the next installment of my commentaries on the Nebula finalists–voting is over, but the adventure continues. Until then…