Updates! I gots 'em!
This Wednesday, I'll be signing at Pandemonium Books in Cambridge, Mass with Leah Cypess, author of Mistwood.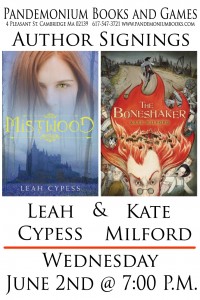 I just finished Mistwood yesterday, by the way, and it's absolutely wonderful. I'll do a Subway Literature post on it after the signing, but in the meantime, let me just say I read it in what would've been one sitting if I hadn't had to work this weekend. It follows Isabel, herself a creature of legend in the world of the book: she is the Shifter, a preternaturally powerful bodyguard/assassin/adviser to the King of Samorna. The Shifter sometimes leaves the court, but always returns when her King requires her protection. Isabel is called from the Mistwood, her home and place of strength, by Rokan, a king with reason to fear for his throne. There's fast-moving intrigue and several really excellent twists, and Isabel is a stellar character. I'm going to stop myself from saying more until after the signing, but I definitely recommend it. So come by if you can, this Wednesday, 6/2, at 7pm.
Pandemonium Books & Games
4 Pleasant Street
Cambridge, MA 02139
Last week, Book Expo America came to NYC.
I wasn't able to attend the first day (bummer and a half, because there were some panels I would have loved to have had the chance to attend), but on Tuesday night I stopped by the Steam Salon at Madame X in Soho to hear readings from Felix Gilman, George Mann, Catherynne M. Valente (recent winner of the Andre Norton award for The Girl Who Circumnavigated Fairyland in a Ship of Her Own Making, which I loved desperately), and Cherie Priest. No, I did not wear the very cool veil I made in order to turn my dress into an appropriate costume–I took it with me but then I kind of wussed out (I'm not very good at costumes)–but I did get to meet Cherie, who was completely awesome, and who didn't seem to think it was weird that after a couple scotches I felt it was really important to give her a giant thank-you hug (or maybe two) for being so cool about the title fiasco.
On Wednesday I made it to BEA for a video interview with a very nice woman from Amazon and the "Speed Dating" event with children's librarians and booksellers, which was a bit of a blur but a lot of fun. Wednesday night Nathan and I stopped by Books of Wonder, where several tween and teen authors were reading. I will admit we went mainly to see Cory Doctorow. We're both huge fans, but I particularly wanted to meet Cory to say thank you for his beautiful review of The Boneshaker on BoingBoing.net. We also picked up his new YA, For The Win, which I read in two days (although this required some ignoring of Nathan, which he has still not forgiven me for). Then on Thursday I had a chance to really wander around the main floor after lunch with Jeri Smith-Ready (whose awesome new paranormal YA Shade launched at the beginning of May) and Sarah Beth Durst (a finalist for the Andre Norton award for her gorgeous fairytale retelling, Ice). Jeri and Sarah had attended the entire conference, and considering I felt pretty brain-dead after my one event, I have no idea how they were capable of holding conversations by that point.
BEA is seriously overwhelming, and I don't get the impression this is just my perception as a first-time attendee. Next year I will have a bit more of a plan in place. For one thing, that trade floor is absolutely made for a scavenger hunt. Filing that thought away.
Oh, another cool thing happened, during but unrelated to BEA. I got a message from a former co-worker that she'd spotted this in AM New York, a free daily newspaper, on Wednesday: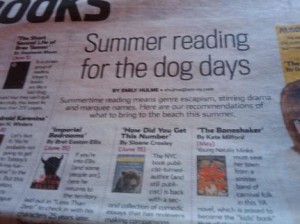 See it? There on the right hand side? Here it is, a little closer: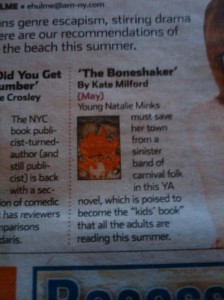 And now, as promised, Some Very Important Questions, in honor of the Pandemonium Event, from my oldest little brother, Buddy Chell.
Buddy Chell: If you were leveling a Blood Elf Mage for PvE play, would you spec him/her as a Frost Mage, Fire Mage, or Arcane Fire Mage?
Kate Milford: Good question, Buddy! While being a Frost Mage sounds wicked cool, I think I would feel obligated to spec him/her as an Arcane Fire Mage because the town in my book is called Arcane. On the other hand, being a Frost Mage would probably give me greater personal satisfaction, because Nathan hates the cold and I think I would feel very powerful if I could cast some awesome Frost Mage badassery at him to annoy him whenever I wanted.
(Nathan Milford, from across the room: Good luck. I would cast Ice Barrier at level eight and absorb only 3% of the damage, assuming Kate could really roll against my armor class and hit THAC0. She'd need a d30. *laughs maniacally*)
BC: What level Jewelcrafter are you? Can you transmute epic gems?
KM: I am a level two Jewelcrafter, master of crafting from antique shrimp forks and camera parts. No, I can't transmute epic gems, but I can beat up any of those lame Jewelcrafters who make stuff out of yarn and elbow macaroni. Take that, kindergarteners.
BC: How many heroic dailies do you run?
KM: Okay, what the hell does that even mean?
(NM: I always live by my old dungeonmaster's motto: We are armed to the teeth for your protection.
KM: How is that relevant?
NM: It's relevant because it's awesome.)
BC: Do you prefer to tank or be dps as a feral druid?
KM: Tank is a verb? Other than in the sense of, man, I tanked my history final? I prefer not to tank history finals. I prefer not to be involved in history finals. What's my other option? Feral druid? I pick that one.
BC: How often do you hang out in Goldshire pwning n00bs?
KM: As often as possible. Nothing else gives me satisfaction like pwning n00bs, especially in Goldshire. It's my favorite place to pwn them.
(NM: Psh. I pwn n0obs in Ravenloft. In the mists of Ravenloft. In the mists.)
BC: Whats your guild's name?
KM: The Yankee Clock Peddlers. Because trust me, nothing is more intimidating or sinister than a Yankee Clock Peddler. Seriously. Look it up, n00b.
And there you have it! I will be available to answer further questions this Wednesday. In the meantime, I leave you with this, which I couldn't help but be reminded of. Happy Memorial Day!