A week ago I had the coolest thing ever happen. I was on the way home, ending what had already been a fairly amazing week (see my previous post). Nathan and I were sitting in traffic with my parents on our way home from New Hampshire amusing ourselves with a voice-changer toy we'd gotten my father (who was driving, and therefore cut off from using it due to the likelihood of him laughing so hard at one of his own jokes that he could drive us off the road). Nathan also spent rather a good amount of time cursing the fact that we seemed to be driving through every dead zone in New England (and he was technically working from the road). Still, somehow  this email miraculously got through despite the patchy internet:
Dear Miss Milford,
My name is Emma Humphrey and I am currently LOVING the Boneshaker. My mom and I run a book club for me and all of my friends every summer. For our fourth book club we are doing Newberys, and since we know that your book is a contender for this year our meeting tomorrow is on the Boneshaker. I know that you are currently in Milford New Hampshire and I just found out, I wish I were there to see you. I was wondering if there was any chance that you'd be in, or anywhere close to Massachusetts tomorrow day, night – whatever. My book club consists of ten girls who all love to read and would do anything to meet you. I know this is probably a huge thing to ask but I hope you'll write me back.
Sincerely,
Emma Humphrey
I wasn't planning to be in Massachusetts the next day, but, as I may have mentioned, at the end of June I left my full-time job to try my hand at being a full-time writer. I do work a couple days a week at my favorite bookstore, but I didn't have to work the day of Emma's book club; and, as I've definitely mentioned, I love to drive. So I told Emma I'd come up, and the next day, a little after 5pm, I pulled up in her driveway and immediately a row of heads popped up in the window. One of them was–I am not exaggerating here–literally jumping up and down.
Before I was all the way out of the car, the front door opened and this swarm of sixth-grade girls came pouring out of the house. At the front of the swarm was Emma, who introduced herself, shook my hand, took my bags, and brought me inside. There I met her parents and her teacher, the latter of whom greeted me with, "Hi! You're insane." (Usually I manage to look sane for at least five minutes before people catch on. All I can say in my own defense is, I'd been driving for a while and didn't have time to touch up my makeup before I got there. But this isn't the point.)
They ushered me into the dining room, where they had decorated the table with plastic gears and a (toy) bee in a jar for a centerpiece. There was a boneshaker-themed dinner: popcorn in carnival-striped bags for appetizers, tomato soup and grilled cheese for dinner, and unburned chocolate cake (devil's food) along with gear-shaped cookies for dessert. Basically everything here is a reference to something in the book. While we ate, we talked. There were fifteen girls there and Emma's little brother, Quinn, and all of them had questions and commentary. Their questions were so good, in fact, and their discussion so thoughtful and engaging, that I totally lost track of time. The plan had been for the book club to go from 5-7, but it was 10 before I finally left with cards signed by all the book club members and my hosts, a necklace with a gear on it (one of the moms had made one for all of us girls), the bee in the jar, and my life utterly changed.
I love to write. I would write even if nobody wanted to read what I wrote, but having a book in print means knowing that there are at least a few people out there who know how I spent the last five years of my life, and will have opinions on the result. I have been lucky enough to have had some very glowing reviews, and those made me feel really good, but let's face it, this book was written for younger readers. In the past week I've had my first experiences meeting some of those readers in person, and after seven days I still don't have words for what it felt like. All I can say is, thank you Emma, Maeve, Dulaney, Olivia G, Olivia W, Abby, Minnie, Emma M, Ginny, Ellie, Julia, Alex, Amazing Quinn, Mike, Laurie, and Paul for inviting me to your table and making me feel like I had something worth saying.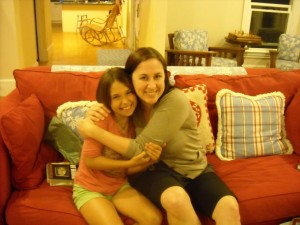 Oh, and these amazing readers have agreed to do a series of guest posts here at the Clockwork Foundry in September on their summer book club reading. Mark your calendars! I can't wait to read what they have to say.