Every time I go on a long drive without my husband (who prefers, when faced with an eleven hour plus drive, not to extend it by four more hours), I pick some weird detours and a couple dive restaurants and try to get out the door that morning before ten to better my chances of making it to all of them. But every time, I leave later than I plan, I try to fit too much in, and I get there (wherever my final destination is) far later than any sane person would find reasonable. I always have a great time, though. This time I failed to make it to any of my planned stops. I didn't get to a single one. But there were beautiful September days for driving both ways and no need to hurry, and really, that's enough for me. I like to drive with the windows open, so that I can smell and taste the air changing.
Disclaimer: this is not a post with a point. While I drive, I keep a notebook open on the seat next to me with a pen clipped to it, so that I can scrawl notes when I need to. What follows is what was going through my head, or rather, it's what sense I could make of those notes, things I wrote without looking while trying to stay in my lane. I make no claims about its interest or relevance to anybody else. I'm not even going to bother editing it much.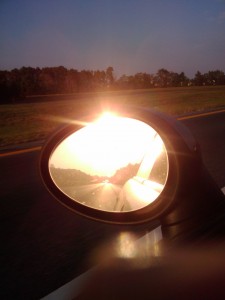 Monday, on the road. The plan is to make it to Virginia Beach in time to photograph something cool in a park before the sun goes down, hit a restaurant I found in Roadfood, then arrive in Topsail, North Carolina, where I will be vacationing with my best friend and her family, sometime around midnight. I got off of 95 in New Castle, Delaware (where, if you are so inclined, you can look off to the right as you come off the Delaware Memorial Bridge and see the huge stainless steel virgin Mary out front at the Holy Spirit Catholic Church—roadside stuff, wooooo!), then proceeded to drive alongside a set of railroad tracks for hours. I mean hours, down through Delaware and into Maryland, then into Virginia, through the Chesapeake Bay Bridge Tunnel and ultimately into North Carolina (after arriving at the park in Virginia Beach at sunset, too late to hike to the location I wanted to photograph).
But never mind that. Right now, I am still driving alongside the railroad tracks, possibly on the Charles M. Lankford Memorial Highway, and abruptly I realize I am driving through familiar territory. Not that I've been here before (although maybe I have; the mid-Atlantic is not all that big a world), but this is the kind of landscape I grew up in. I was born near Virginia Beach, and right before my little sister was born we moved to Riva, outside of Annapolis. Riva is no longer as rural as it used to be, back when my school bus drove past open fields of corn or (yes, really) grazing llamas. There used to be a little, dirt-paved airport with little planes lined up, and across a gravel road from it was a huge barn where, in season, you could see giant masses of tobacco hung inside to cure. All those little farms are gone now, have been for ages; now they are housing developments. But here on Lankford, the farms still line the roads. There are busted barns, still standing, it seems, only through the good graces of weedy trees and ivy. There are rusted tractors, the chassis of an old truck or two, sometimes forgotten, sometimes decorative. There are listing farm stands with hand-lettered signs, small businesses (hair salons, florists, pet groomers, handcrafted gift shops) with Klever Kountry Names. Every now and again, with the windows open and the air streaming in, I catch a particular smell, half cut-grass, half mechanical (I think)—I don't really know what it is, but weirdly it takes me back to this novelty store that used to be in the strip mall a couple miles from my childhood house with our local grocery and hardware stores and a consignment shop where I once bought a teddy bear. This novelty shop was the kind of place where you could buy a rose in a glitter-filled globe of water for Valentine's day, and for Halloween they had these little sticks of greasepaint that I remember having that same smell.
Saturday. On the way home, I manage to convince the GPS that I don't want to take 95 back to New York, and I find myself taking the same route in reverse. I pass fields of cotton, roadside businesses selling prefabricated housing, listing farm stands that in North Carolina advertise peanuts and fireworks (always with yellow signs—why is that?). North of the Bay Bridge Tunnel, peanuts give way to pumpkins and yet more fireworks, cotton fields give way to yellowing tobacco plants. I stop at "award-winning" Stingray's for food and to change into a shirt that covers my sunburned shoulders. I am still too far south for what I consider to be the optimal crabcake, but I'm far enough north to take a chance, and even if it isn't lumpy enough for my very high grew-up-in-Annapolis standards, it's good, and the place feels just enough like a roadside dive (it is, after all, both a restaurant and a gas station) to make me feel better about missing every pit stop I'd intended to make. I still want to stop and photograph every crumbling, abandoned house I pass, but I keep driving, trying to convince myself that it's enough that I've seen even if I can't stop to take a picture of the late afternoon light falling through the damaged roofs. Nathan is waiting for me at home, after all, and it will be a miracle if I find parking.
Good trip.