Since many if not most of my readers are old friends, many if not most of you know about my obsession with roadside attractions, small towns, and things old and weird and forgotten. For those of you who didn't, consider yourself informed. For Thanksgiving, Nathan and I took our beloved little car, Faye Valentine, and drove to spend a few days with his folks in Missouri. We picked a couple places to stop along the way out and on the way back, and here they are!
Sunday, November 21: The Mercer Museum in Doylestown, Pennsylvania. Basically, there's this castle in Bucks County and it's full of early American ephemera. I mean, stuffed full. This is how I killed the battery in my camera, I think. Later I'll put up a slideshow, but for now, this gives you the basic idea.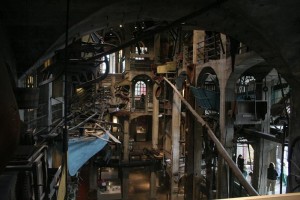 Monday, after much driving through the wilds of West Virginia with my husband experiencing the general freaked-outness of a Midwestern boy accustomed to flatlands when he is forced to spend hours getting through the mountains (where, to his horror, the speed limit is 70 and there are no guard rails), we wound up at the Buffalo Trace Distillery in Kentucky and took their "Hard Hat" tour. Nathan was in heaven.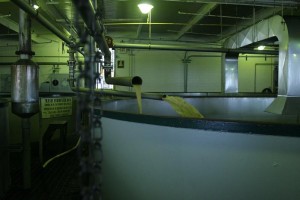 After that, it was off to Louisville, where thanks to the amazing folks at RoadsideAmerica.com, I found this amazing yard to kill the rest of the camera battery with: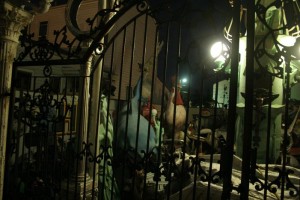 Again, slide show coming to give you a better sense of how cool it was, but basically both the front and back yards were just full of weird stuff–cigar store figures, a life-size (I guess) E.T. in a red phone booth, a few dinosaurs, King Kong, that kind of thing. Then we drove to Cave City, Kentucky, and made camp here for the night:
Tuesday we drove from Cave City to Hannibal, Missouri, stopping here and there along the way. On Wednesday, right before leaving the hotel to visit Mark Twain's boyhood home, we got a phone call from my agent, Ann Behar–but more on that later.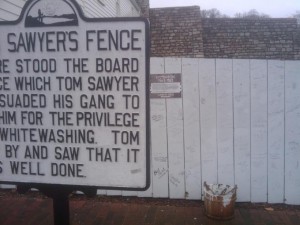 From there it was on to Kansas City to spend Thanksgiving and the day after with Nathan's folks. On the trip home, we made two stops (leaving out the assorted antique shops and flea markets I dragged Nathan to): Clairton, Pennsylvania, which has some very ghost-town like stretches of street dating from days when it was thriving, and Roadside America, the Attraction.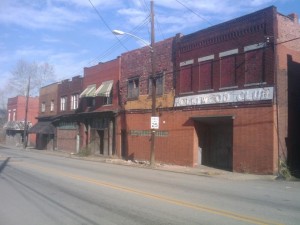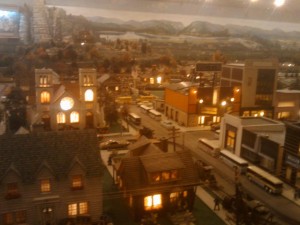 You can probably figure out which was which. By the way, Roadside America is on the Pennsylvania Turnpike, which, in certain areas, has geographical features like mountains in common with West Virginia. I found the drive beautiful, but this is what my husband had to say about it: "If Frodo had to take the Pennsylvania Turnpike to get the ring to Mordor, it would've been a very different story."
Oh, and that very exciting phone call I received in Hannibal? The Very Important Announcement? In 2012, Clarion will release the next installment of the story begun with The Boneshaker, which is currently going by the title The Broken Lands. I am very, very excited about this book–so excited that I think the news and the story merit a post of their own. Stay tuned for more information, but in the meantime, safe travels wherever the holidays take you, and don't forget to stop for the weird stuff along the road.