Let's just ignore the fact that I haven't updated things here in a month, shall we? But since you know I haven't been blogging, let me tell you what I have been doing.
Firstly, yesterday was the official publication day of Shadowhunters and Downworlders, a Mortal Instruments Reader. I was invited to contribute a piece, which was awesome because I enjoyed the heck out of the books and I adore when cities become characters. My essay, Unhomely Places, opens the anthology and has a bit to do with the New York of Cassandra Clare's Mortal Instruments, a bit to do with Freud's and Jentsch's essays on the uncanny, a bit to do with my experience of coming to be at home in New York City, and everything to do with the strangeness and wonderfulness of places of all kinds. And the company I get to keep in this anthology! Holly Black, Kendare Blake, Gwenda Bond, Sarah Rees Brennan, Rachel Caine, Sarah Cross, Kami Garcia, Michelle Hodkin, Kelly Link, Diana Peterfreund, Sarah Ryan, Scott Tracey, Robin Wasserman…it's pretty cool. You can read excerpts as well as Cassandra Clare's introduction here.
But back to me and my wild and crazy winter.
I finished the first draft of Greenglass House in November and turned it in to my brilliant editor at Clarion, Lynne Polvino. While Lynne works through her notes, the book is already on its way to the designers, who will start to think about what the final package will look like. Not that there isn't loads left to do; I've actually held off sending Greenglass to the Kid Editors until I hear Lynne's thoughts on the ending. I have had loads to keep me busy in the meantime (see below). Greenglass House is still scheduled for publication in spring of 2014. If you need something to tide you over, why not poke around the website of the Nagspeake Board of Tourism and Culture, the official website of the city where Greenglass House takes place?
Here's a weird thing, while I'm on the subject: Greenglass House was a ridiculously terrifying and, I guess because of that, a wildy satisfying book to write. Why terrifying? For one thing, it's my first contemporary novel. For another, it involves role-playing games, which I am fascinated by but have precious little practical experience with (and which I know will get me in trouble if I somehow wind up doing it wrong). But most frightening of all to me, it's a far quieter story than either The Boneshaker or The Broken Lands. It's not a story in which the fate of the world or even a town hangs in the balance; it's a story about people, about secrets, about family, about identity, and about generosity. And, you know, some weird stuff happens, too. In fact, as I read the draft over, I can tell where I was starting to worry, because on the next page, something weird happens. When I get too far out of my comfort zone, I guess I default to oddball.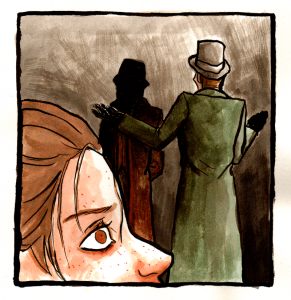 On Christmas Day I received the final piece of artwork from the last of the twelve reader artists behind The Illustrated Kairos Mechanism, and this month I put that edition together. On Monday I sent the final book to the good folks at Vook to convert into a PDF. As soon as I get that back, it'll be available right here at The Clockwork Foundry, free or pay-what-you-like, with eighteen (EIGHTEEN!) brand-new and outstanding illustrations. Should you choose to make a donation, all proceeds go toward this summer's publication of the second volume of the Arcana series, Bluecrowne. But donation or not, check it out. I cannot say enough about the work these artists have done. (The image here, by the way, is Candice Fortenberry's illustration for Chapter Twelve.)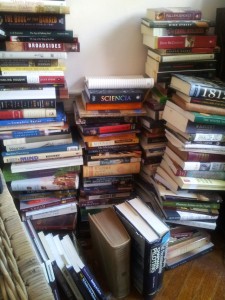 This week I finished the first half of The Left-Handed Fate, my first book with Holt and the wonderful Noa Wheeler. I cannot tell you how much I am loving writing this book, but much like The Broken Lands, it is a tremendously research-heavy project. I've been assembling my research materials for LHF for almost two years, since I first wrote the proposal, and since the actual book sale of course the library has grown to the point where it almost needs its own floor-to-ceiling bookcase. I also had to move a bunch of my Broken Lands books over to join the LHF pile, because a certain character you know from TBL is returning in LHF, which means I need my conflagrationeer texts where I can get at 'em easily. But thanks to the writing and publishing of The Kairos Mechanism and the writing of Greenglass House (which was due first and which required some research of its own), I really couldn't dig into that library until the end of October. So now I am researching and writing at the same time, which I'd say isn't optimal (it results in things like my realizing that the book has to take place a full year earlier and in a different season, which isn't an inconsequential pair of things to have to change when you're writing a historical novel set during an actual war) but which I have discovered I don't mind.
This is basically the same way The Broken Lands was written, because it was due four months after it was sold and it was sold from a proposal that amounted to a single page. No lie, I had not written any of that book at that point, and the "proposal" read more like jacket-flap copy than any kind of synopsis. (Nor, I might add, did any more elaborate synopsis exist in my head.) Because of that, I had only the broadest idea of what I needed to research before I started writing (basically, the Brooklyn Bridge, card sharpery, fireworks; that was it). Then I changed the date of the story there, too, from 1883 to 1877, which resulted in huge changes and a solid chunk of new research. Jin became a main character. Liao suddenly needed a grounding in Taoism and alchemy. None of these things were small fixes. It still came together in a novel I'm tremendously proud of.
Having gone through that once, I'm no longer afraid of writing and researching at the same time. It turns out, I kind of really like doing things that way. For one thing, I don't have infinite bandwidth, and it's much better for me not to have to hold all the stuff I have to learn in my head for longer than a couple of months. For another, there is plenty of time for me to fix things like years and seasons and do whatever retrofitting I need to after I have the draft done since The Left-Handed Fate is scheduled for release at the beginning of 2015. In the meantime, I'm plowing through books on of the war of 1812, men in black, the Age of Sail (the book to the right there was my birthday present from Nathan!), the history of computing, Forteana, folklore of the sea. My for-fun reading: Patrick O'Brian's Aubrey/Maturin novels. (Last time I got up to book 15 before for reasons I can't remember I forgot to pick up the next one.) And I'm right on track to have my draft done at the end of February! Then it's on to Bluecrowne, a complete draft of which I owe myself at the beginning of March. 
So it's a pretty packed first couple months of 2013, but there's a good reason: in June, Milford Command Central welcomes its first human junior officer (a boy junior officer, we know as of just this morning). I suspect my productivity will go right down the drain along with any chance I ever have again for a good night's sleep. So I suppose I should add sleeping a lot to the list of stuff I've been doing that's kept me from blogging. I've had a really easy time of it, but damned if this critter doesn't wear me out. Oh, and drinking a lot of stuff that isn't wine or bourbon. I've been doing that, too. (Kid, you're going to owe me for these nine months for a long time.)
Now, let's see if I can keep another month from going by before I post again. We shall see.