In honor of what I'm just going to go ahead and call Greenglass House Cover Day, I'm delighted to have a guest post from cover artist Jaime Zollars, without whom today would be really not very exciting at all. Thanks for stopping by, Jaime! 
Good day to all of you! My name is Jaime Zollars and I'm thrilled to have the opportunity to be a little part of Kate's amazing story, Greenglass House.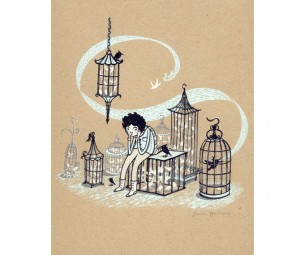 Many of you reading are no doubt writers, or avid readers, or simply fans of Kate's lovely writing. While there may be some illustrators out there as well, I wanted to explain something to those who don't make pictures. Illustrators get to be surprised all the time with the jobs that come our way. We may be going about our day, drawing, surfing the internet for "research", sipping coffee and tweeting about said coffee, when an e-mail pops up in our inbox. It is a job! And we hope it is a fun job. But if we choose to illustrate the content of others in lieu of writing our own, the details of such assignments are always a surprise.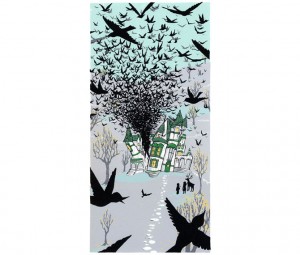 Now, surprises are sometimes good, but they can also catch you off guard.  It is relatively common for me to get an e-mail from a client that says something to the effect of: "We love the work you do, but we'd like for you to do something entirely different." (not in these exact words.) So while thankful for every opportunity that comes my way, I proceed in drawing a client's pet shop of adorable kittens while dreaming of the day I will be called to draw something with shady characters, snowy mountains, and an air of magical mystery.
So when I was contacted about illustrating a cover and interiors for Greenglass House, it was probably the best surprise I'd ever uncovered in my inbox. I was sent samples of my own work that Clarion felt made me a good match (shown here), and seeing a few of my more obscure personal favorites there was thrilling! Then getting to read the book before most anyone else made it all even more exciting. This was one of those jobs that I immediately understood why the publisher was calling ME. This project felt like a natural fit. And for an illustrator, that is always the best kind.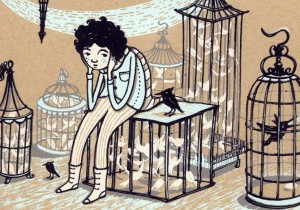 Of course, once one gets "the perfect job", the next thought that pops into one's head is "I sure hope I don't mess this up."  While it was difficult to pack in the depth and wonderful mystery of Greenglass House in a single image, hopefully it does its job of making you want to know more.
See Jaime's beautiful cover, read an excerpt from the first chapter, and enter to win an ARC over at Book Smugglers!