Even before this year, I was a bad blogger. It's not my thing to begin with, and then you add in a toddler, revisions, three works-in-progress, and making sure there are clean coffee cups in the house, and blogging really goes out the window. Seriously, if I have anything else to do, I do that first. And in the past couple of months, I have had a lot on my plate. But I really should've taken some time to post about at least some of it before now. So here's my big news in brief: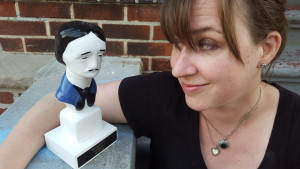 In addition to being the winner of the Edgar Award for Juvenile Literature, long-listed for the National Book Award for Young People's Literature, nominated for the Andre Norton Award for Young Adult Science Fiction and Fantasy and the Agatha Award for Best Children's/Young Adult, and, oh yeah, hitting the New York Times Bestseller List, Greenglass House has been optioned for film by Paramount Pictures! 
Does this mean it's definitely being made into a movie? No. But its chances are somewhat better than "vanishingly small," which was my usual answer up until this week–the studio has to acquire the rights before they can greenlight the movie, although it is true that plenty of books are optioned that are never made into movies at all. So we have to just cross our fingers and wait. And before you ask, yes, if they do decide to make it, I hear they absolutely let the author of the source material cast the movie, so as soon as I decide who's playing who I'll let you know.
(You know that's a joke, right? It's not even close to true. It's the opposite of true. It's so not true it's actually funny that I wrote it there.)
Here are some true things I can tell you. Firstly, I'm not adapting the screenplay. In my initial conversation with Ian Bryce, the producer, he was kind enough to ask if I wanted to be involved. I said yes, absolutely–except I didn't want to adapt the screenplay, which I'm sure he was relieved to hear because what you really want in someone who's going to adapt a novel into a film script is, well, someone who knows what they're doing. Yes, I've written screenplays before. It's in my bio. Here's what my bio doesn't say, but which I will freely admit to you here: I am not good at writing screenplays. For reals. I know my limitations, and I want this book to have the best possible shot at being the best possible movie. So a gent named Joe Ballarini is doing the adaptation, and I have every confidence that he'll be awesome because of the second thing I can tell you, which is that I really loved what the producer, Ian, told me about what he wanted the movie to be, and this is the guy he picked to adapt the script that will anchor that movie. So hooray for Joe!
But to go back to the second thing, I really can't emphasize enough how happy I was after talking with Ian about his vision for the movie. He hit all the points that you'd want to hear someone hit if you've read Greenglass House and had strong feelings about it. In fact, it was immediately and overwhelmingly clear that he himself had read the book and had strong feelings about it, and I think the best thing an author can hope for in someone who's going to shepherd their work to a new phase of being is that that person is as passionate about it as the author is, and that you have the same vision for the story you're telling.
When and if the project moves on to the next step, I'll share what I can with you, but in the meantime, I'm long overdue for some celebrating, by which I mean a nap.
Your bad blogger pal,
Kate