I like the idea of having extra content for readers, and I especially like the idea of making that content available while the story it's related to is still unfolding. A couple of years ago I started thinking about how I might go about doing that in an interesting way. Here's what I've come up with.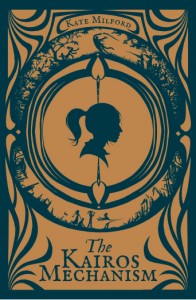 The basic idea is this: self-publish a novella to accompany each of my traditionally-published hardcover releases. The companion novella might or might not be about characters from the specific book it's released with, but it will always be related to it. In the case of the first edition, The Kairos Mechanism, the novella helps to link The Broken Lands to The Boneshaker. It's a complete Natalie Minks adventure, and although I have tried to be very careful not to include any spoilers, there are clues as to what's coming down the road, and bits of history not revealed in either of the traditional releases. (If you'd like to have a copy, you can find links here.)
The second and third Arcana are already in the pipeline, but they need your help. If you'd like to become a backer, head over here to learn more about Bluecrowne and The Raconteur's Common-Place Book.
Arcana Project titles are released in three formats:
Paperback, published with McNally Jackson Books' self-pub services and printed on the Espresso Book Machine
PDF, iBooks-compatible, Kindle-compatible, and Nook-compatible ebooks created with Vook.com
Pay-what-you-like digital edition illustrated by teen reader artists
The Kairos Mechanism was funded via Kickstarter on June 9 of 2012. It's my hope to ultimately have early Arcana books pay for the ones that follow, but I'm not that big a deal yet. So for now, the plan is to supplement sales of The Kairos Mechanism with some crowdfunding for the second arcanum, Bluecrowne. Early fundraising via this website involves Kickstarter-style rewards with payments handled through Gumroad.com and a special edition of The Kairos Mechanism available at Vook.com. You can find all the necessary links on Bluecrowne's page here. If necessary, closer to the printing deadline, I'll launch a crowdfunding campaign. We shall see.
Inquiries about me, about the Arcana Project, or about my traditionally-published books can be made to press (at) clockworkfoundry (dot) com.
Inquiries about McNally Jackson Books' self-publishing services or the Espresso Book Machine can be made to bookmachine (at) mcnallyjackson (dot) com.