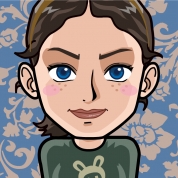 Posts by Kate:
September 23rd, 2013

In honor of what I'm just going to go ahead and call Greenglass House Cover Day, I'm delighted to have a guest post from cover artist Jaime Zollars, without whom today would be really not very exciting at all. Thanks for stopping by, Jaime! 

Good day to all of you! My name is Jaime Zollars and I'm thrilled to have the opportunity to be a little part of Kate's amazing story, Greenglass House.

Many of you reading are no doubt writers, or avid readers, or simply fans of Kate's lovely writing. While there may be some illustrators out there as well, I wanted to explain something to those who don't make pictures. Illustrators get to be surprised all the time with the jobs that come our way. We may be going about our day, drawing, surfing the internet for "research", sipping coffee and tweeting about said coffee, when an e-mail pops up in our inbox. It is a job! And we hope it is a fun job. But if we choose to illustrate the content of others in lieu of writing our own, the details of such assignments are always a surprise.

Now, surprises are sometimes good, but they can also catch you off guard.  It is relatively common for me to get an e-mail from a client that says something to the effect of: "We love the work you do, but we'd like for you to do something entirely different." (not in these exact words.) So while thankful for every opportunity that comes my way, I proceed in drawing a client's pet shop of adorable kittens while dreaming of the day I will be called to draw something with shady characters, snowy mountains, and an air of magical mystery.

So when I was contacted about illustrating a cover and interiors for Greenglass House, it was probably the best surprise I'd ever uncovered in my inbox. I was sent samples of my own work that Clarion felt made me a good match (shown here), and seeing a few of my more obscure personal favorites there was thrilling! Then getting to read the book before most anyone else made it all even more exciting. This was one of those jobs that I immediately understood why the publisher was calling ME. This project felt like a natural fit. And for an illustrator, that is always the best kind.

Of course, once one gets "the perfect job", the next thought that pops into one's head is "I sure hope I don't mess this up."  While it was difficult to pack in the depth and wonderful mystery of Greenglass House in a single image, hopefully it does its job of making you want to know more.

See Jaime's beautiful cover, read an excerpt from the first chapter, and enter to win an ARC over at Book Smugglers! 

September 23rd, 2013

I said Tuesday but evidently I can't read a calendar! TODAY IS GREENGLASS HOUSE COVER DAY!

Go immediately to visit the Book Smugglers. There you will find my beautiful cover and an excerpt from the book, as well as instructions for entering a giveaway for a Greenglass House arc. Later I'll be joined here at the Clockwork Foundry by Jaime Zollars, the cover artist herself. For all the Greenglass House-related fun you can handle, visit the Nagspeake Board of Tourism and Culture to learn more about the Sovereign City of Nagspeake, where Greenglass House takes place.

The excitement, it is nearly more than I can take…

September 21st, 2013

Four days to the cover reveal! How about today I tell you a bit about how this book came to be, and what it's about.

First of all, here's the publisher's description of Greenglass House:

It's wintertime at Greenglass House. The creaky smuggler's inn is always quiet during this season, and twelve-year-old Milo, the innkeepers' adopted son, plans to spend his holidays relaxing. But on the first icy night of vacation, out of nowhere, the guest bell rings. Then rings again. And again. Soon Milo's home is bursting with odd, secretive guests, each one bearing a strange story that is somehow connected to the rambling old house. As objects go missing and tempers flare, Milo and Meddy, the cook's daughter, must decipher clues and untangle the web of deepening mysteries to discover the truth about Greenglass House—and themselves.

If you've read The Boneshaker and/or The Broken Lands and/or The Kairos Mechanism, this probably sounds like something different. It is. Mind you, it's not entirely disconnected to Natalie, Sam, and Jin's world, but you'll really have to look for the connections. They're there, but they're not remotely the point. So how did this story come about?

About two years ago, my critique group came up with a summer project. Some of us were between projects, some of us had been staring too long at the projects we were working on, and some of us (me) needed to be challenged to write something short. The goal was to take a prompt and write a short, simple book, something around 200 pages. As I recall, six of us decided to play. The other five sent their prompts to me and I wrote them down, stuck them in a hat or something, and pulled them out one by one to assign them at random. I can't remember now what prompt I gave, but I received Lindsay Eland's contribution: stained glass.

I've said it before, but here we go again: I resist outlines. I like to just dive in and see where a story takes me, so that's what I did with the story that became Greenglass House. About the only things I worked out in advance were the season (winter), the location (a remote inn in the city of Nagspeake), and the fact that Milo, the main character, was adopted. I think I had fairly recently read Dickens' The Holly-Tree Inn, in which guests snowed in at an inn share tales at night, because the idea of having the guests at Greenglass House tell stories followed fairly quickly.

I think I started right at the beginning, and the opening paragraphs have basically not changed at all:

There is a right way to do things and a wrong way, if you're going to run a hotel in a smugglers' town.

You shouldn't make it a habit to ask too many questions, for one thing. And you probably shouldn't be in it for the money. Smugglers are always going to be flush with cash as soon as they find a buyer for the eight cartons of fountain pen cartridges that write in illegal shades of green, but they never have money today. You should, if you are going to run a smugglers' hotel, get a big account book and assume that whatever you write in it, the reality is, you're going to get paid in fountain pen cartridges. If you're lucky. You could just as easily get paid with something even more useless.

Milo Pine did not run a smugglers' hotel, but his parents did. It was an inn, actually; a huge, ramshackle manor house that looked as if it had been cobbled together from discarded pieces of a dozen mismatched mansions collected from a dozen different cities. It was called Greenglass House, and it sat on the side of a hill overlooking an inlet of harbors, a little district built half on the shore and half on the piers that jutted out into the river Skidwrack like the teeth of a comb. It was a long climb up to the inn from the waterfront by foot, or an only slightly-shorter trip by the cable railway that led from the inn's private dock up the steep slope of Whilforber Hill. And of course the inn wasn't only for smugglers, but that was who turned up most often, so that was how Milo thought of it.

The first seventy-odd pages were written when I showed it to Lynne Polvino, my editor at Clarion. But between the time I wrote those pages and the time I went back to finish it a full year passed, which was the time during which we edited The Broken Lands and I wrote The Kairos Mechanism. I wasn't able to seriously return to Greenglass House until basically a month before the draft was due. But by then, even if I hadn't broken down and made an outline, I'd made enough notes that I might as well have, although it was still sort of a surprise even to me as the threads I'd laid down at the beginning, without a clue as to where they'd wind up, began to come together.

It wound up being a harder book to write than any of the previous books. In part this was because of the way it had begun, with me jumping into a story based on a prompt without a clue as to where that story was going. In part it was just the fact that the story was so different from the rest. I think I kind of felt that without the fate of the world or at least a whole town somehow hanging in the balance I might not be able to tell a compelling story. I'm still kind of afraid about that, even though I desperately love Milo and Meddy and the adventure they have. But it isn't the kind of story I'm used to telling, so it's still hard to know how successful I was. It helps that my editor loves it. It helps even more that the Kid Editors who've finished it love it. At least two have declared it their favorite of my books so far, and one of those two, Emma, admitted that she was surprised by that.

So, cautiously, I am beginning to let go of my fear about this very different story. And one of the things that's really helping me to do that is the perfect rendering of Greenglass House on its perch over Nagspeake's Quayside Harbor district that you'll see on Tuesday.

More soon…

September 20th, 2013

It's happening this coming Tuesday, September 23rd over at The Book Smugglers! Mark your calendars, friends, because (and I can say this with humility because Lord knows I am not responsible for it) the Greenglass House cover is beautiful. Really fabulously wonderful. I am completely and wildly in love with it. It's the work of Jaime Zollars, and rather than listening to me talk about how awesome she is, I encourage you to visit her here and see for yourself.

Now, a few of you out there might have gotten a bit of a sneak peek, you lucky ducks. Shh. Don't tell. But on Tuesday we'll be revealing the final cover in its full wraparound glory, which I promise you don't want to miss. And if you can't stand the idea of waiting until next August to read Greenglass House, you'll definitely want to stop by, as we'll be giving away an ARC.

In the meantime, I'll be posting like a madwoman here to help get you ready. Like every day. Like maybe even more than that, Griffin-permitting.

So MARK YOUR CALENDARS, I SAY! Tuesday the 23rd! Book Smugglers! Be there or you'll be sorry!

September 13th, 2013

I'm not even going to look at when my last blog post was. But three months ago I had a kid, and they were right (because they all told me I would get negative-everything done). I have been getting nothing done.

Except I have been getting some stuff done. Since June 12th, I have done the following, in the following order:

1) Had a baby.

2) Completed my first round of offical Greenglass House edits.

3) Nearly finished Bluecrowne. And by "nearly," I mean I hit page 155 of what was supposed to stay (for budgeting purposes) under 120, which was roughly the length of The Kairos Mechanism.

4) Conferred with my ace Kid Editors about Greenglass House in preparation for the next round of edits, which I expect to receive this week or beginning of next. Once again, they delivered. These young readers are AWESOME and thoroughly deserve having their praises sung in capital letters.

5) Read the following approximately a hundred times each in the last week alone: 

Red Truck
Orange Pear Apple Bear
Polar Bear Night
Wherever You Are My Love Will Find You
Brown Bear Brown Bear What Do You See? 
If You Want to See a Whale

I have also done the dishes several times.

You'll shortly be hearing more about Greenglass House. Among other things, Ana and Thea, the fabulous ladies at Book Smugglers, have offered to do a reveal for the cover, so there'll be that excitement. And the cover is amazing, folks. Jaime Zollars is the artist, and although I'm fairly certain she's never been to Nagspeake, she managed to capture my beloved home-away-from-home perfectly. (Greenglass House comes out in August of next year, but it's already available to preorder here and there around the interwebs.)

But since I had initially thought I'd be releasing the next Arcana Project novella this summer and clearly that's not happening, let's talk Bluecrowne.

Thing number one: I don't think I can reasonably call it a novella anymore, since by my best guess it's going to come in around 175 pages. Thing number two: this throws all my previous calculations out the window. And by "all my previous calculations" I mean my budget. Which is fine, considering I haven't put together anything in the way of a crowdfunding campaign yet. My initial reluctance to do that before now was due to the fact that I didn't feel right somehow putting up a campaign when the book wasn't done. I now see how very pragmatic I was being, even though at the time I thought I was just being paranoid.

There's also the fact that my slower post-baby writing pace has implications for everyone else involved with this book, including (but not limited to) the wonderful Andrea Offermann, who's returning for the Bluecrowne cover. 

So here's the new plan: I'd like to have Bluecrowne to you for the holidays. This still depends on a lot of factors, but I think it's doable.

I would like not to depend on crowdfunding at some point, but as you see from the progress bar on the right-hand sidebar, I'm nowhere close to having enough in the bank for my original budget yet. Since Bluecrowne's going to come in so much longer, I'll be printing fewer paperbacks to start with, but other things like the costs of paying the editor and the reader artists will go up. So there will be a Bluecrowne Kickstarter campaign, I suspect in mid-October, or whenever I get the next Greenglass House edits turned in. And once again there will be a whole bazaar of fun rewards, including another previously-unseen story from The Raconteur's Commonplace Book in the ebook for Kickstarter backers. (What's The Raconteur's Commonplace Book? You'll have to wait for Greenglass House for the answer to that.) And once again the fundraising will include money to commission a dozen or so young artists to illustrate a special edition. (Don't want to wait until October to help out? You rock. Click here.)

What will you encounter in Bluecrowne? Well, you'll meet some new friends and those of you who haven't yet visited the Sovereign City of Nagspeake will get your first glimpse. But some old friends from all three of my previous books will be returning, too. No, I won't say who. Not yet, anyway. So ends this status report from Milford Command Central. Comments? Questions? No? Great. Here. Have a picture of a few of the research books involved in Bluecrowne, Greenglass House, and The Left-Handed Fate.

That's right. I said "a few."

June 4th, 2013

A couple weeks ago, the SFWA released its summer bulletin, Issue 202, which contained some fairly heated responses to reader responses to this winter's Issues 200 and 201. This is the end of a really long post I wrote on Saturday that I had to break into three parts. You can read the first two parts here and here.

Now, what I had originally planned to post today was based on my readings of the three bulletin pieces at the heart of the Kerfluffle and my readings of a pretty good cross-section of responses on both sides of the issue that were posted throughout the interwebs. It's also colored by my reactions to several other kerfluffles that have been swirling around the ether and the intertubes. It still exists after the cut below in its original form (making this an obscenely long post, taken as a single thing). But yesterday evening I spent rawther a long time (several hours) reading the SFWA forum threads covering the issue and the discussions which have been going on at least since January when Issue 200 landed in folks' mailboxes. That, friends, was verrry illuminating. So before you read what I was going to say, here's where I landed at one in the morning last night, after reading the conversations that have been taking place out of public view.

You can't read the forums if you aren't an SFWA member, which is troubling in this case for the very important reason that a lot of would-be members are watching to see the organization's response to the Kerfluffle to help them decide whether SFWA is something they want to participate with. A lot of current members are doing the same. But a lot of us (myself included) don't visit the forums as often as we might. And while there's a rousing dialogue going on online, very little of that has contained concrete information about what the SFWA itself is doing to respond. There has been an official apology and statement from outgoing president John Scalzi; vice president Rachel Swirsky has also apologized publicly and been appointed to a task force to evaluate the Bulletin and how to improve it based on this episode as well as ongoing grumblings about its usefulness and the readership's expectations for it. Both of which are great, but it would be easy to think those are a couple drops in a bucket compared to the massive response of everyone else who's spoken up on one side or the other.

If you are making the decision about whether to renew your membership, please, please login to the forums and read the threads about the Bulletin. And if I might suggest, while the early threads about the individual issues make for more, shall we say, entertaining reading, you should probably start with the thread titled "Moving Forward." This is the one you need, and if you start with the other ones, you might never get there. Moving Forward is the thread in which you'll find several instances of direct evidence that not only the leadership of the organization but the leadership of the magazine itself understands the magnitude of the situation and is responding accordingly. Although I suspect some of these things will be announced publicly very soon, a brief Google search suggests they haven't been announced yet. But they're there if you're a member and can login.

More importantly, though, there is a rousing discussion between folks who are eager to contribute to solving the problems with the Bulletin–both the very real problems of these last few issues and the less immediately troubling but no less important questions of how the Bulletin can stay relevant to its readership and provide real benefits. One relatively new member, Carrie Cuinn, who wrote this about her response to the Kerfluffle back in April (this was the issue with the Barbie litany), contacted editor Jean Rabe and volunteered her skills and time to help at the Bulletin. Jean Rabe brought her aboard despite the fact that Carrie openly wanted to work toward changing the Bulletin. Carrie has not only been volunteering at the Bulletin ever since, but has been active on the forums not merely calling for change but offering concrete solutions and helping to extend the discussion by encouraging others to join in.

She isn't alone on the threads, either. There are many, many voices who, after venting their reactions, followed up not with continued vitriol but with suggestions and counter-suggestions. This, despite the fact that one of the sad things that happens in all of the forum threads in question is, unfortunately, a predictable bit of what I'm going to call "this is our sandbox" posturing, mostly from two or three specific voices. One of those voices felt (and perhaps continues to feel) that Affiliate and Associate members don't have the right to "make demands" of the organization. They may make suggestions and requests, this person said (I won't quote the individual directly or by name; that would be inappropriate since the forums are not public-facing), but use of the word "must" (as in, the Bulletin must change) is inappropriate from anyone who isn't an Active member.

The membership requirements are here if you're curious, but to summarize, the difference between Associate and Active member is only the number of prose fiction sales that person has made to qualifying markets at certain pay rates, and Affiliate members are professionals who work in SF/F but not necessarily as writers; they are editors, agents, reviewers, academics, etc. A single sale of a prose novel to a qualifying market allows one to join as Active, and those who work in short fiction need three qualifying sales to join as Active or one to join as Associate, and of course they can change their membership later.

There are differences in the levels of participation allowed members at different levels, so maybe there are some theoretical grounds for The Individual's suggestion that Associate and Affiliate members should not feel entitled to have the organization pivot to suit them. The problem is that everyone who believes in the work it does for authors wants SFWA to grow, which means it's in all of our interests that people join at whatever level they can and upgrade their memberships when they can, which emphatically will not happen if all levels of membership can't be involved in shaping the organization, at least by taking equal part in discussions about its future. If people feel that Associate members aren't "real" members, then why should they bother plunking down their hard-earned dues money to join as Associates? Certainly they'll have no reason to volunteer, or to participate in discussions like these. I've been an Active member for like five years; my first sale was a novel, so I was Active from minute one. But ask me how often I've volunteered. Ask me how often I visit the forums except to make sure there's a PDF of my books available around Nebula/Norton season. Now take someone who works full-time as an SF/F editor and has several SF/F sales of their own but they're verse fiction, not prose and therefore they can't join as Active, and let's further pretend that this person actually maintains a pretty decent level of involvement. My concerns–when I suddenly discover I have them–are more important than our fictional 'sub-Active' member? Riiight. Also not irrelevant: members at all levels are demanding change. Lots of members. And the concerns of non-members saying, "I don't know if I ever want SFWA to speak for me if this is what it's going to say" aren't irrelevant, either. So. That's what I think about that.

One of those sandbox voices also felt (and perhaps continues to feel) that the problem with younger and newer voices making all of these demands is that the SFWA and the Bulletin are what they are because of the recognized names and long years of contributions of the organization, and that they have earned their platforms and the right to a certain level of respect. Now, I think everyone deserves respect, and deserves to be heard. Basic human respect, though; not veneration and an ongoing platform. And most everyone in the discussion on the forum sees the platform issue as one linked to the Bulletin's place as one of the mouthpieces of the organization. Someone said something I really liked–that just because someone's put in a long career and made contributions doesn't mean they get a megaphone and the right to speak for everybody.

But here's the neat thing–although several times I literally slapped myself in the forehead while reading the forum discussions, they were, by and large, almost entirely civil and rational and involving people who were provably eager to solve problems, not just to gripe about them. Yes, there were the sandbox guys, who at the end of my reading still seemed to think that what was being asked for by those who were asking for change was a full-scale coup d'etat under the flag of Never Offend Anyone Again. And there were a couple times where both sides got a little strident. But between the superhuman moderators and some occasional "let's make sure I'm hearing you right" reality checks from parties eager to keep the conversation going, things never escalated so far that the conversation couldn't be made civil again. (Although I confess to being curious about how many comments the mods actually had to mallet; none of them were closed for comments at any point, but all four threads that I read did eventually wind up having ground rules set and all of them eventually went into active moderation).

And active in all the conversations were Rachel Swirsky (who as you will remember is heading the Bulletin task force) and incoming president Steven Gould. At one point, someone asked Rachel what the timeframe was on a related issue that had been raised as needing eyes on it, and Rachel's response was (again, paraphrasing) that she had planned to tackle it in about two weeks, but was she hearing that it needed to be given a higher priority? Several questions were raised from people about things they'd been trying to get answers on for some time, and scrolling down other people came back with answers. It was not just a place to vent. It was (and is) a place to work. The Moving Forward thread is still active, and anyone who wants to be involved in the discussions should get over there asap. There's also a thread for those willing to volunteer.

So what I took from the forums were two things: 1) sadly, my suspicions that there was a certain sandbox mentality going on were confirmed, although it's hard to know how prevalent it actually is because only a few sandboxers joined the conversation; HOWEVER more importantly 2) the Kerfluffle had resulted in inclusive, solution-focused conversations and brainstorming  involving members at all levels and on both "sides" of the issue, and those things were already resulting in active steps being taken to improve the Bulletin both in terms of professionalism and inclusion and its value to the SFWA constituency. Oh, three things: I also learned that the Bulletin is and has been (although evidently almost nobody knew it) open to submissions from both members and non-members alike. Bonus: it pays pro rates. So another tremendously useful way to get involved in making changes to the Bulletin is to submit to the Bulletin. 

SFWA members who haven't visited lately–this is a really good time to go to the forums and catch yourself up. I was extremely heartened by the discussions taking place. Those who are not members and who are still deciding, you may have to wait and see what the next couple of Bulletin issues show in terms of results. It isn't clear what state the next issue was in prior to all of this blowing up, so it's hard to say whether we're going to see visible results with Issue 203, but I feel pretty good about the likelihood that Issue 204 is going to do a better job for everyone. And the Kerfluffle–well, it would have been better for it never to have happened, but certainly it's gotten people involved who haven't been involved before, and it looks like it's going to result in some things that perhaps really needed to be examined being done differently. Those are both really good things.

And now, if your eyes aren't crossing yet and you have more time to kill, you're welcome to read what I was going to post up until last night.

Here it is: Read the rest of this entry "

June 3rd, 2013

I spent Saturday writing a blog post that became three, because I was that peeved by a series of kerfluffles lately, culminating in a dustup at the Science Fiction and Fantasy Writers of America over several pieces spanning three issues of the SFWA Bulletin. This is post number two.

In very brief, in Issue 200 a dialogue between Mike Resnick and Barry N. Malzberg raised some hackles, as did the cover, which featured a metal bikini-clad warrior woman crouching over the corpse of some cold-climate beast. In Issue 201, another contributor, CJ Henderson, opened his mouth and inserted his foot by saying that, like Barbie, women should maintain a "quiet dignity." And in Issue 202 Resnick and Malzberg responded to the complaints the SFWA received about both the cover of and their contribution to Issue 200 by saying the complainers were idiots, if not outright attempting to censor and suppress them.

But there was another response in Issue 202 to the reader responses to 200. It was by Jim C. Hines, and it came in response specifically to the cover and the outcry it prompted. Echoing a blog project he did some time ago in which he himself posed as closely as he could to the contorted positions in which cover chicks find themselves, Hines argues that the problem is not primarily the fact of the skimpy clothes and the sexuality—it's the specific ways in which those things are drawn, and the fact that men on covers are not required (or at least, not required nearly as often) to break their backs in the name of sexy poses. In his blog post he very generously speculates that the idea behind these covers is probably to portray strong, sexy women–not just pinups in costume. But in the course of sexing the poses up, the artists have put these women in nearly impossible postures—certainly postures from which they could not possibly fight or in fact, function without pain.

In his Bulletin column, he points out: "Our barbarian swordswoman is more than able to take down monsters with three times her mass, but she doesn't have the slightest idea how to dress herself. As both armor and protection from the snowy environments, her wardrobe puts her clearly in the "too dumb to live" category of characters." Therefore, if you want to draw a sex-kitten/warrior woman, you'd better be able to justify your choices. Preferably, dress her in something she can actually fight in, and pose her as a fighter, not a pinup. And (adds Kate) if you don't think you can accomplish both with the same picture, you're not trying hard enough. That's all. Full stop. You're an artist. Try harder.

Interestingly, Hines' article, which directly follows Resnick and Malzberg's, includes on its first page the following statement: "I've been talking about sexism in cover art online and at conventions for more than a year now, and I believe it's an important conversation to have. I certainly understand that not everyone agrees with me, and I'm not about to try to force everyone to take part in that conversation, but I wonder sometimes when people seem so eager to shut it down. Whether it's dismissing concerns about the objectification and sexualization of women as knee-jerk overreaction from people looking for reasons to be offended, or proclaiming that the PC Police are coming to paint burkas over all the old Conan the Barbarian covers."

I said it in yesterday's post, and I'll say it again: the conversation is important. The conversation has merit. And in the interest of keeping the conversation going (and in response to something I mentioned in yesterday's rant, the fact that the Resnick and Malzberg took issue with their detractors' purported "anonymity"), Hines is also keeping a roundup of the (not at all anonymous) responses to the Kerfluffle. You can find it here.

And here's another thing to discuss once we get that conversation going: there's a problem with the way that some people use femininity and female sexuality, and the way they defend their uses (some would say abuses) of it. A sexy woman on the cover of a magazine doesn't immediately have to equal sexism. But when that woman is fairly obviously sexy just for the sake of the sexy, well, then there might be a problem. But when women (and sometimes men) complain about hypersexualized female images, they are often countered with something like this: she's not hypersexualized, she's strong and powerful and in charge of her own sexuality, and by the way, why are you ashamed of the female body/female sexuality?

About a year and a half ago DC Comics went through something like this when they rebooted Catwoman and Starfire and a Kerfluffle resulted, in which many (mostly but not all female) readers objected to what they saw as a massive and misogynistic oversexualization of characters they cared about and many (mostly but not all male) readers countered that people were reading "misogynistic oversexualization" where they should have been reading "strong, sexually empowered, and badass" and demanded to know why those angry readers were offended by beautiful women who weren't ashamed of their sexuality.

My response was what I hoped would be a helpful tutorial on how to write better female characters, in which I argued that, if only for financial reasons (namely, increasing market share by not pissing off female readers who would otherwise spend their money on your product), DC writers ought to consider just writing better women. Because really, that's all the angry folks were demanding: female characters who were written so that their entire personalities were not based upon their sexuality. (Now, to be clear, I wish people would write better women and not assume or claim that sexuality is a sufficient stand-in for personality and strength because it's the right thing to do, much like I wish we could all have equal rights and pay and generally be treated with respect because it's the right thing to do, but on matters like this I admit I default to being cynical.)

I guess the parallel for artists (and designers and publishers, if they're listening) is: you can have your sexiness, just please make it make sense. Otherwise nobody's fooled and people get pissed off because it starts looking like you're pandering to men and objectifying women. And writers/editors/artists/designers/etcetera: you can do that, if you feel that strongly about it. You can continue to pander and objectify. Of course you can. You're allowed, to put this on the kindergarten level of discourse. Nobody's going to come to your home or place of business and stop you. But you should expect some negative reactions and you should expect to lose a chunk of your audience. Weigh that into your calculations, is all I'm saying. (I'd like to say, be reasonable and do the right thing, but again, cynicism. Plus, if we were ever likely to agree on what "the right thing" looks like, we wouldn't have kerfluffles like this, would we? Evidence: this response to the Kerfluffle. But look: just don't click on that link. And if you value your blood pressure remaining at healthy levels, for God's sake, do not read the comments.)

But let's go back to the positive, because there are positives here to talk about. In Hines' article he speaks to an artist named Lee Moyer and asks "how a professional made the distinction between painting a beautiful woman (or man) and objectifying them." Moyer's response included the following: "I cannot speak for other illustrators. But for myself, the goal is always to paint the person first. To paint women as persons in their own rights is key, as opposed to painting women for the male gaze."

So again: people who feel so strongly about having your SF/F served up with sexy sexy covers–you can still have that! But maybe the artists and designers just have to work a little bit harder. They're professionals. They can handle it. And frankly, so can you, probably. It's not like anyone's asking you to eat kale or anything like that.

Yesterday I posted a massive rant. I tried not to write it as a rant, but that's pretty much what it was. But I finished the post by commenting that on the bright side, the SFWA is taking the Kerfluffle very seriously and really actively looking to foster meaningful discussion. Thank you, Jim C. Hines, for taking part in that discussion, and challenging others to do the same.

June 2nd, 2013

This was supposed to be my last post on getting yourself unstuck when you're putting a story together. I guess it has to wait. Sorry, guys.

A couple weeks ago, the SFWA released its summer bulletin, Issue 202, which contained some fairly heated responses to reader responses to this winter's Issue 200 and spring's 201. Going through the magazine rack on the back of our bathroom door as well as Nathan's wastebin and my own wastebin on Saturday, I located all three issues and read the articles in question after reading E. Catherine Tobler's blog post in which she explains why she's leaving the SFWA (spoiler: it's because of Issue 200, with a cameo by Issue 201, and the responses of some of its contributors to some complaints by readers).

Yes, I'm an SFWA member. No, I hadn't read any of the Bulletins all the way through. The truth is that I don't typically find that they feel relevant to me or my writing and publishing experiences thus far. I always chalked that up to the idea that middle grade fantasy is maybe a different beast in many ways from what most of the SFWA membership is up to. But now this kerfluffle is making me wonder if that's not the only reason it doesn't feel relevant.

In Issue 200, Mike Resnick and Barry N. Malzberg have a dialogue about "lady editors." That phrase did put a few backs up, but more bothersome than that seemed to be the repeated references to the physical attributes of the ladies in question. There was also an anecdote about how editor Beatrice Mahaffey joined the Cincinnati Fantasy Group and how after " the members' wives got a look at Bea in her swimsuit at the 1950 Midwestcon…the club's makeup changed to the 50% men and 50% women that has existed ever since."

Now, as a personal strategy for looking at comments that I find offensive, I try very hard to assume good intentions on everyone's part at the outset, and I try to look at context. I don't find "lady editors" to be immediately offensive. And to be fair, the dialogue does actually talk about the accomplishments of the women it profiles. It does mention some women without starting off their segments by calling them "knockouts." And there is clearly a lot of admiration for these women. The anecdote above came from another woman who knew Ms. Mahaffey personally. Other anecdotes are included that seem clearly intended to draw more detailed portraits of the women, not necessarily to suggest that these things (including their physical attractiveness) are more important than their editing.

On the other hand, read this paragraph: "Anyone who's seen photos of Bea from the 1950's knows she was a knockout as a young woman. She was invited to Chicago to edit Other Worlds by Ray Palmer when she was barely out of her teens. In the process she also edited or co-edited Mystic, Science Stories, and Universe. (Some of them were the same magazine under different titles; Palmer changed titles a lot to keep a step ahead of the printing bills.)" Now, I don't necessarily have any issue with including the fact that a brilliant editor was also beautiful, but I'm just going to say that if it had been me writing that paragraph, I would probably have mentioned it at the end if I really felt like it was that important. Just, you know, to keep anybody from thinking I thought it was critically important. And by the way, in the article, that's the second of three mentions of Ms. Mahaffey's attractiveness.

I'm sorry, Mike and Barry—I don't think you meant to suggest that she accomplished what she did because she was beautiful, but bringing up one lady's hotness three times in two pages…it's weird if that's not the point. Sloppy writing at least. At worst, well, it's easy to read what is ostensibly an article about female editors and to come away with the impression that you might think one's beauty was as important as her literary contributions. Which one would hope you can see is sufficient reason for readers to maybe get their backs up. And you certainly left room for that interpretation, gentlemen. Moreover, coupled with this, "lady editors" starts to seem less quirky and more condescending.

We're writers. We put content out there for readers, presumably after we have honed it in order to do our very, very damnedest to make certain that the message our readers take away is the one that we intended to get across. I'm not going to say it's always the writer's fault every single time a reader takes something in a way the writer didn't intend, but if a bunch of readers get their backs up…well, maybe it's not just that the readers got it wrong. Maybe the writer/s needs to own the perceptions his/her/their words have created.

So, to summarize: I'm willing to assume good intentions and true regard for the women in question in the "lady editors" column, but in that case it's seriously sloppy work. However, I also think it takes absolutely no work and certainly no agenda to find the column problematic or offensive. I certainly did (although admittedly I read it after reading about the shitstorm it caused, so I wasn't a totally unbiased reader).

But Issue 202 contains Resnick and Malzberg's rebuttal to the complaints they and/or the SFWA received about that column, and boy, even I, with my high-minded assumptions of good intentions, had a hard time reading that.

Their argument is that for the entirety of their careers, they have never (or almost never) before been "censored" despite writing stuff that could have offended plenty of people along the way, including the gatekeeper types who, if they had chosen, could easily have stopped publication of those racy pieces. But they worry that the complainers are calling for their censorship now, by those who responded negatively to their article and to the warrior babe on the cover.

Malzberg calls the objectors' concerns "stupidity"—which he is willing to stomach as long as the objective isn't to "shut us down" (which, presumably, is what would push those concerns from relatively harmless "stupidity" into true "censorship"). They argue that romance novels are just as bad about objectification of men on their covers. This might be a fair point, but while I'm not a member of the Romance Writers of America, I'm pretty sure the RWA would happily to discuss that any time its readership and membership choose to raise it as a concern. (Note: since writing that line, I found this excellent post, which–apart from containing the cover of 200 and the pdf of the dialogue column from 202–addresses that particular note directly. Evidently there is robust discussion on the topic. Hooray for robust discussion! That's a good thing.) That's what service organizations do—they respond to the concerns of their members and the readers they serve. And raising concerns is what many members and readers of the SFWA did, which is why the SFWA needs at least to have the discussion.

So, halfway through the rebuttal column, I had learned this much: the authors consider that either those who objected to the cover and dialogue in Issue 200 are at best stupid and at worst censorious. Resnick and Melzberg are also upset about the "anonymity" of those who complained, although ten minutes on Google would've given them ways to contact plenty of people eager to discuss their concerns—assuming they're interested in discussion, and if I were still assuming good intentions, I'd presume they'd be pleased to do that. But by this point in my reading, I was no longer assuming good intentions. In order to explain why, let me tell you where I lost my ability to read objectively. It's where Melzberg says this:

"Our Warrior Woman protesters and enemies of the adjective (who unlike Ms. Dworkin will not identify themselves) fall into the category of what Right Wing radio talkers call "liberal fascists," and I cannot disagree with that description." He then goes on to quote Sean Hannity: "The difference between the so-called liberals and conservatives is that the liberals want to shut us down. They truly do not believe that we should have airtime. They truly believe that we should be banned. We do not feel that way about them. We don't like their positions but we acknowledge their right to expression. They do not extend us the same courtesy." Melzberg continues: "This seems to be the subterranean issue here…the conviction held by at least some of the protestors that what they found offensive should be banned. That does not take us to anyplace that a writers' organization should want to go, and I find the central issue here as distressing as you do."

Actually, what I find distressing is the idea that a writers' organization would not respond with discussion and debate to evidence that one of its mouthpieces (the Bulletin) does not represent the values of the community it serves. The problem is that the community is not one homogeneous organization. It now contains a lot of younger writers and fans and a growing number of women, many of whom, as Resnick points out, are making noise, demanding that the SFWA—which represents them as much as it represents the two men writing the dialogue—hear their concerns and take them into serious consideration.

And my interpretation of those concerns—having read rather a lot of them now—is not that hard-bodied Warrior Women should not exist or be on the covers of any books or magazines, and it certainly isn't that women should never be described as beautiful (the adjective Melzberg mentions having "enemies" in the quote above). It's not that no one should ever write or read material that anyone anywhere finds problematic. It's that in 2013, many people are bothered when they see, coming from their writers' service organization, so many potentially problematic things in one place—one of the mouthpiece publications of the organization—and they want to be able to discuss those things with the organization. And they have the right to that discussion by virtue of having paid dues.

Here's something I'm pretty sure is almost universally true: when we disagree about something, there is a marked difference in the way we speak when we are willing to discuss that something on equal footing with the other party in an open exchange of views, and when we just want the other party to shut up. And the evidence that these fellows are too angry at being challenged to consider the possibility of the opposite point of view being valid and unwilling to engage in discussion is the way the article ends: with references to thought control, to Stalin and Chairman Mao; with comparisons between the negative response to their previous article and "the Federal Government (or the Supreme Court) telling you what you are allowed in your bedroom and with whom." This not the language of anyone willing to consider that they might have caused legitimate offense and willing to take part in a discussion. This is the language of someone who isn't willing to consider the other party's point of view at all. The message here is: shut up and stop complaining, you're behaving like a bunch of idiots and would-be dictators, and your challenging of what I wrote is on the same level as withholding my civil rights.

Note that at no point here have I accused the authors of the dialogue of behaving like Old White Men, which they claim is one of the reasons people are trying to silence them. On the other hand, dude, I'm really thinking it. I wish I wasn't, but I'm not going to lie: I totally am. I also really wish that they hadn't made the argument a liberal-conservative thing. I really wish they had just been willing to take part in a discussion. To have a conversation rather than a fight.

The conversation is important. The conversation has value. And it has value in this case especially, because, having now discussed Issue 200 and Issue 202, I should just mention one thing from Issue 201: CJ Henderson, in an article on how to maintain a writing life even when it seems to have stalled, includes an unfortunate bit of advice: Be like Barbie.

Now, once again, let me start from a place of assuming good intentions: while Henderson says, "Yes, Barbie has always been perfectly long-legged and tiny-waisted, perfectly proportioned in every way with dazzling blue eyes, terrific hair, and oh right, quite the pair of sweater-fillers as well," (honestly, why would you even go there?) he completes that sentence with, "But, that is not who she is." He goes on to suggest that Barbie's great staying power is due to the fact that who she is is more—and more important—than the sum of her measurements. "That's not who she is inside." So far so…well, so far so really, really awkward, but I kind of see what you're trying to do there. There's a weird sort of parallel here to what I think maybe Resnick and Malzberg were trying to do—refer to a woman's prettiness as part of her but not all that she is. But then Henderson puts his foot in it. "She has always been a role model for young girls…because she maintained her quiet dignity the way a woman should."

No, no, no… And I'm not even touching the other thing he said that raised lady-hackles, about how Barbie's staying power was due to the fact that, unlike the Bratz dolls who "dress like tramps and whores," Barbie is a "nice girl." I don't have the bandwidth. But the net effect, of course, is that the rest of Henderson's article, which on the face of it has nothing to do with preaching to women about how they ought to behave, disappears from the conversation, because, like Resnick and Malzberg, he says something he somehow thinks is complimentary but which makes a chunk of readers drop their heads on their desks in either (charitably) embarrassment or (more likely) disgust.

There are bright spots here. I had to break this post into three because I had so much to say, and the next one talks about a really excellent rebuttal piece that also appeared in Issue 202, from Jim C. Hines. Also, both SFWA President John Scalzi and Vice President Rachel Swirsky responded immediately to the concerns raised by readers and members alike. A task force has been created to evaluate the state of the Bulletin. And a lot of people are talking.

And that's good. Even if Resnick and Malzberg aren't willing to have a discussion, plenty of people are. And that's good for everyone.

May 31st, 2013

Still working off one magical prompt for blog material from a Twitter pal, I've been writing about tactics for moving your writing along in those times when you need a little help. Last month I wrote about ways that I give myself a kick in the pants when an in-process project stalls. This month I'm writing about what happens before that–when you're trying to pull vague ideas together into a Project, something you can dive into and begin to write. I have three main strategies (I think), and here they are:

Make a list.
Build a set.

Having already tackled Item Number One, let's talk about lists.

My stories tend to come together like puzzles, which means I need to assemble a certain number of pieces before I get any sense of what the picture is. The story might have a single spark, but that's very rarely enough to get started with, at least for me. So I start looking for the pieces that go along with it. I was on a panel last year with Sarah Beth Durst, who answered a question about the genesis of Vessel by saying (I'm paraphrasing) that her books often start out as 'lists of things Sarah thinks are cool.' I was really excited to discover that I'm not the only one who does this.

Making lists is kind of how I spend my days in between deadlines. I hunt down odd books. I make notes on things that interest me. My husband emails me almost daily with things he thinks might be useful either for something specific or just down the line. I keep everything. I read nonfiction like it's going out of style, and I make notes when something interests me, even if I'm not sure why. Then every few months I sort the notes I've made into files or special notebooks based on what I think I might use them for. Sometimes, when I feel like I'm needing a new project, I'll hunt through the file that holds the unsorted, undifferentiated notes. Inevitably, a few of them begin to coalesce into Something.

Now, what constitutes a useful list for you is going to be different from what constitutes a useful list for me, or that would be my guess, at least. I don't think any two writers approach a potential story the same way. I also am not sure any writer approaches any two of his/her own books the same way. You might approach your list from a purely practical point of view: protagonist, antagonist, inciting incident, stuff like that, so you know what critical elements you're still missing. I'm not a planner, so mine tend to be far less practical lists of stuff I want to include in the story. They tend to look something like this:

Fearsome critters

Old-fashioned candy
Pine barrens
Lost works
Radio dramas
A Popcorn Sutton-type character
Moonshine that isn't moonshine

The downside of my whimsical lists is that there's nothing to tell me what pieces I'm missing–but then, sometimes even though I need the list to get the story going, I need the story to tell me what it needs to be finished, and of course that comes later. (And yes, this is actually a working list for something I'm turning over in the back of my head.)

I think lists like these are useful because humans are wired to recognize patterns, to see how things fit (or could fit) together. Of course, sometimes it turns out a piece doesn't fit, which probably only means it belongs more properly to a different puzzle. Save it! If you don't already have one, may I suggest a folder or notebook specifically for cool ideas you haven't found the right place for yet? Let no cool idea go to waste! And don't judge yourself for what you put on your list. It doesn't have to make sense to anyone but you. It doesn't even have to make sense to you at first. It just has to put ideas–even if they appear to be unrelated–together for you to think about.

The bottom line is this: a list is a way of getting ideas out of your head without the pressure of figuring out story that comes with setting out to write an outline or synopsis. Outlines and synopses are tremendously useful tools, but they do require you to have, you know, the story figured out. (One could look at it the other way–that writing one or the other forces you to figure the story out–which is obviously true. But a) I'm on record that I personally break out in hives at the idea of writing outlines and/or synopses and b) anyway I'm talking about the stage in building a story before you've got enough to dive into writing outlines and/or synopses.)

The other useful thing about a list when you're trying to work through what you haven't figured out is that it helps you to see how much you do have figured out. And knowing that might give you a place to dive in and start writing. And once you're there…well, you're there! Get writing!

Next up: a trip to Nagspeake to discuss how building a set can bring a story idea into focus.

May 8th, 2013

In my last posts, I wrote a bit about ways to move an existing draft along when you find yourself staring at the screen. But that assumes there's a draft there to move along. What about when there isn't? What about when you still need to find the story?

I'm a stationery junkie, so here's how it goes in my world: I literally find myself staring at a blank page. (All right, I like quad-ruled paper, so it's never a totally blank page, but you get the idea.) Sometimes I wind up staring at that page because I have a vague idea itching at me that I think might turn into something; sometimes it's because I feel like I need some kind of palate-cleanser, but I don't have any specific story in mind. On two occasions it's been because I needed something to show an editor and I knew nothing on my current to-do list was going to be what she wanted, and once it's been because my critique group gave each other prompts for a summer project, assigned by random drawing. I got "stained glass." It meant nothing to me at the time, but I needed to come up with a story anyway, because that was the point of the exercise.

People find stories in all different ways–writing exercises, prompts, daily journaling, whatever else–so once again (I feel like it should go without saying), these are just things that have worked for me.

Do some research. 

Make a list. 

Build a set.

Today, item number one: Research. Sometimes it's for when you don't even know what the heck you're researching. 

Ah, research, sitting on that fine line between productivity and procrastination like that idol thing at the beginning of Raiders of the Lost Ark. Take it off the pedestal wrong and there goes your day. Do it right and you still might lose your day, but maybe tomorrow, after you've processed what you read and you've fallen asleep trying to figure out whether you actually learned anything useful and if so, how it relates to anything else–maybe tomorrow you'll sit down and scrawl a few thoughts that relate to your potential story.

The tricky thing about research when you don't know what you're looking for is, obviously, where do you start? Me, I'm usually looking for weird.

Sometimes, for various reasons, I know the story hiding just out of view is probably going to need to be set in a certain era, which is awesome. Or perhaps there's an era I've kind of been wanting to learn more about. At least it narrows things down, although not necessarily that much. After having done this for a few years now, I am getting a sense of where to look to find the kind of weird that appeals to me, and there tend to be good traces of it at the edges of science, religion, and the arts. Wartime has tremendous scope for the weird, for various reasons. Folklore and superstition, for reasons that are probably obvious. Technology, which often involves philosophy. 

Awesome for All The Reasons.

I find a lot, a lot of useful stuff reading about these particular elements of whatever era I research. These are things that involve tackling questions of the unknown, or at least the not-well-understood. They are things that people give their lives to. Not coincidentally, they are also things that polarize, and while I get very bitter and angry about the polarization I see in my own world in my own lifetime, a story needs conflict and a writer needs to know where to look to find it. Even when I don't have a particular era to help focus where I'm looking, I still tend to default to the same basic spheres I mentioned two paragraphs up. As I hunt, like I said, I'm looking for weird, and I'm looking for something I haven't encountered a hundred times before. I'm looking for something that makes me dog-ear a page and fumble for my notebook and a pen.

Last year I visited Deer Hill School in Massachusetts and took a bagful of books full of weird stuff to talk to students about finding stories in unexpected places. Together we went through an assortment that included science, history, bizarre diseases, cartography, cabinetry, a couple of my grandfather's notebooks, and I can't even remember what else. We were looking for things that could be the jumping-off point for stories. The kids each picked a book and scoured it until they found something, anything, that caught their eye as a potential plot point, character clue, whatever. Anything. Then we talked about how one might go from that first thing-that-made-you-stop-turning-pages to a rough story idea. We talked about the necessities of reading widely, and of keeping an open mind; we talked about how something you might never have thought you'd be interested in could turn out to be exactly the missing piece that either completes your story or helps to spark a vague story idea in the first place.

Research. Open-ended, open-minded, undirected research; research just for the fun of it. And for this girl, at least, it guarantees that I am almost never without a jumping-off point when I'm ready for something new. Finding a new story by going on this kind of hunt depends on two potentially contradictory things, I think.

One: being roughly aware of what sorts of things catch your interest and knowing where to look for them. As I type this I'm reminded of something my friend and illustrator extraordinaire Andrea Offermann told me she'd been told about keeping a sketchbook. I'm paraphrasing here, but the basic idea was that a really great way to keep yourself sketching even when you aren't inspired to do it or don't have a subject in mind is to know what kinds of things you like to sketch and start with those when you need a jumping-off place.

Two: being open-minded enough to look in other places, too. The first time my husband wanted to read me an article about the differences between object-oriented and functional programming, I just about banged my head on the steering wheel to make him stop (I was driving at the time, and therefore couldn't leave the room and claim I had work to do). But he was absolutely certain this article–about two types of computer programming philosophies, remember–was relevant to Simon Coffrett and the other Jumpers of the world of The Boneshaker. And dammit, he was right. He was SO right that if I tried to explain WHY he was right, I'd be giving you huge spoilers. And I should have known he'd be right, because he's given me critical tidbits like this about a million times before. The Broken Lands only has an ending because of a couple of those tidbits. But if you'd told me a couple years ago that I'd be increasingly relying on computer science to write middle-grade historical fantasy, I'd have laughed in your face. And yet, here I am, and quite literally neither of my forthcoming books would exist if not for things that I didn't think I'd be interested in at first.

Other things I would not have expected to be fascinated by but that turned out to be critical to something I either have worked on or am working on right now:

Military history

Eighteenth and nineteenth century sailing ships

Role-playing games

Ancient alien stuff

Confectionery history

History of the Periodic Table of the Elements

The Ozarks
Sleepwalking
Programming languages
The Qing Dynasty
Stained glass
Tuberculosis hospitals
Livery companies

This is just off the top of my head, without consulting the truly batshit-crazy collection of books that lines my walls.

So I guess the tl;dr of this post is that, when hunting for a story, it sometimes helps to both know roughly where you ought to be looking and to be willing to peek into random cabinets along the way, even if they don't look remotely like the sort of cabinets that are going to contain what you're seeking. Be openminded. Keep copious notes. Look for the unfamiliar. And when the rabbit hole does, finally, turn up at your feet, you'll be ready to follow it, even if it doesn't, at first glance, seem to lead where you expected.

Next up, lists: they're not just for household chores and grocery shopping!