It was the final piece of my original plan for The Kairos Mechanism: a digital edition illustrated by reader artists, one per chapter, each of whom would be paid for his or her work. I was excited about the whole project, but this particular piece–the illustrated edition–was the most special piece of all.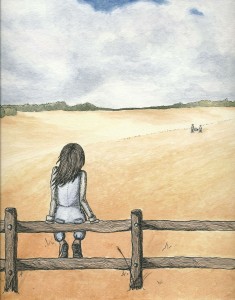 Everybody who got involved with The Kairos Mechanism was excited about the illustrated edition. Several of the co-conspirators donated their (meager) compensation in order to bring additional artists on board. With the help of an amazing group of Kickstarter backers, we were able to raise the amount each artist made per illustration from the originally-budgeted $100 to $125. Meanwhile, with the help of friends, colleagues, a few teachers and librarians and one fairly amazing counselor, I found twelve artists ranging in age from 11 to 20 years of age.
We all worked together to make sure that each artist was assigned the chapter he or she was most excited about (and some lobbied hard to be allowed to illustrate more than one). Beyond making sure that each chapter was covered, I gave no instructions, except where I was asked directly for input. And in September, the finished artwork began to arrive by mail and email. As I mentioned in my previous post, the final piece was hand-delivered to me by my cousin Annie on Christmas Day, the work of 12 year-old Hassan Davenport of Baltimore. Best present ever.
Because I wanted to offer the final edition free or pay-what-you like, I opted to rely on a PDF edition for this version, and last week I turned everything over to Allie Tova Hirsch, a literary designer recommended to me by the good folks at Vook. Allie took my files and created an interactive PDF (correcting more than one of my own formatting errors along the way). And here it is, at long last, complete with not thirteen but eighteen original illustrations.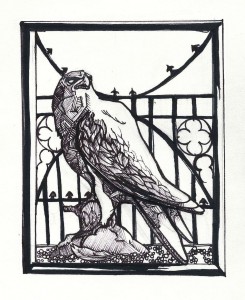 Please enjoy this book. It is absolutely free if you would like it to be; follow the link and you can decide for yourself whether you'd like it to be complimentary (in which case, leave the dollar amount at zero). However, all proceeds from The Illustrated Kairos Mechanism go toward this summer's release of Bluecrowne, so if you'd like to become a backer, just enter the amount you'd like to contribute in the dollar field. The artists have also decided to offer prints to help raise the cost of paying the next group of young illustrators for their work, which you can purchase here.
Last of all, please remember that although The Illustrated Kairos Mechanism is offered as a PDF and that you don't necessarily have to pay for it, the text and all the images are copyright-protected and the rights belong respectively to myself and to the individual artists. If you would like to reproduce anything, please contact me directly about permissions. And if you read the book and would like to share it, please share the download link rather than sharing by any other means. Your friends can still have the book free if they'd like, but I'll be able to get excited about every copy that's circulating, which is helpful, and your friends might just contribute a buck or two, which is wicked helpful.
And I guess that's–oh, right, you want to know where to get that book thing I've been talking about this whole time. Click here, and enjoy, with all our thanks for reading!
Sincerely,
Aidan, Candice, Emma, Hassan, Lily, Maeve, Maud, Natalia, Shannon, Reed, Tanner, Victoria, and Kate