The following are links and bits of information related to the history and folklore of The Boneshaker. It's a start, but it's far from complete, so please let me know if I've forgotten something you'd find useful.
Also, since I think this is going to be a big project, I've made the page live while I work on it. If there is something outlined below that would be useful to you sooner rather than later, (or something you don't see that you'd like to) please let me know.
Strange Things Happen at a Crossroads
Crossroads folklore fascinates me for a couple of reasons. The first is its widespread nature; crossroads tales exist worldwide and have existed throughout time. The other is its dual nature; for every example of the danger of a crossroads, there is an example of how a crossroads can be used for protection or good luck.
Meetings and partings of ways require choices, and that's at the root of the peril of a crossroads. But it's also why they're places that provide opportunity and even hope. They also represent transition and passage from one place to another. There's a great term for this sense of being at a threshold: liminality.
Here are just a few examples of crossroads folklore throughout history.
The Devil at the Crossroads
The idea of meeting or invoking spirits at the crossroads exists in folklore all over the world, and there are examples of invoking both benevolent and malevolent spirits there. One of the best-known of these spirits who may be met at the crossroads is the Devil.
Musicians and the Devil
The unrelated blues musicians Robert Johnson and Tommy Johnson are both associated with the Devil and the crossroads.
Tommy Johnson actively cultivated the idea that he had received his musical skill from a mysterious crossroads figure. Although he is the less well-known of the two Johnsons, blues historians tend to agree that the origin of the legend of the bluesman and the Devil at the crossroads probably owes its origin more to Tommy than to Robert. A perfect example of how poor Tommy has fallen from memory is the case of the young blues guitarist in the film O Brother, Where Art Thou, who is often thought to have been inspired by Robert Johnson, despite the fact that the character IS ACTUALLY NAMED TOMMY JOHNSON. Sigh.
Tommy Johnson on the (Guitar and) Blues Blog. This article contains his brother LeDell's description of how Tommy claimed to have learned to play from "a big black man."
A Tommy Johnson Playlist (coming soon)
Robert Johnson, who died quite young of mysterious circumstances, has also been associated with this legend.
Robert Johnson on the Listening Room Blog
Less well-known but equally fascinating is the early nineteenth-century violinist Niccolo Paganini, who was accused by some as having gotten his wild style and skill from the Devil.
It's important to mention that the Devil in folklore is not always synonymous with the Anti-Christ. The Devil in folklore is more often a trickster figure, one who's a force of chaos rather than necessarily of outright evil. However, much like venturing to the crossroads itself, getting involved with a trickster is always perilous. More on the Devil in folklore below.
Uses of the Crossroads in Burial
Like a cemetery, a crossroads can be either a sacred place or a haunted place–or both. Burial at a crossroads is reserved for the highest and lowest of society. Kings and holy men may be interred there in societies where a crossroads is a place of honor by virtue of being a place where huge numbers of people pass and pay homage to their spiritual and state leaders. By contrast, often it is traditional to bury suicides or murderers at a crossroads. There are several reasons why this might be; it could be a form of exiling those undesirables outside of the boundaries of the town or settlement; it could also be due to a belief that spirits are confused by forking or turning roads. Either way, burial of society's undesirables at a crossroads seems to be based on a wish to keep their spirits from returning to town.
The Crossroads in Vodou
In the Haitian Vodou pantheon, Papa Legba is the loa, or deity, of the crossroads. His function is to act as an intermediary between the worlds that are connected by the crossroads, which in this case are the world of humans and the world of the loa. He is also the god of languages, and acts as a translator. Without Legba's intercession, practitioners cannot interact with the spirits.
Jake Limberleg's Nostrum Fair and Technological Medicine Show
The American Medicine Show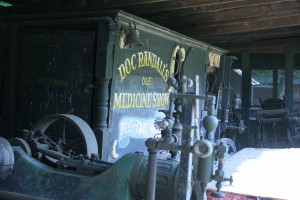 Spoiler alert for future books: I'm kind of obsessed with the history of traveling peddlers. It's easy to forget, in this age of you-can-get-anything-on-the-internet that there were times when the arrival of an itinerant preacher, judge, photographer, or merchant was a major happening in town.
Medicine shows were a very specific type of traveling event. They have operated in the U.S. ever since colonial days and are descended from itinerant medicine peddlers of Europe that can, in turn, trace their descent all the way back into time immemorial.
Certainly not all of these peddlers were out to swindle their customers, but in the days before any sort of regulation, when all a peddler had to do was convince his buyers of the possibility that his claims were true (rather than to prove those claims) there were likely more who practiced quackery for the sake of turning a profit. Fairly or unfairly, these quacks, or mountebanks, came to define the traveling medicine salesman throughout history.
Medicine-peddling outfits came in all sizes, from a single cart to a whole caravan of wagons. Sometimes it was one pitchman trying to gather a crowd on the street; this peddler might be selling his own proprietary concoction or something he bought in bulk from a distributor. A "medicine show," however, specifically refers to a larger outfit that both sold products and provided entertainment. Often times these shows were subsidized by a particular company. The Kickapoo Indian Medicine Company was one of the best-known medicine companies, although it actually had no relation to the Kickapoo nation it took its name from.
Apart from selling medicines, there were often additional services performed at a medicine show (tooth-pulling was a frequent side-business). There were also often entertainments or curiosities (which sometimes included curious folks like "indian princesses," war heroes,snake handlers, or mind readers). There might be minstrel shows, playing heavily on ethnic or social stereotypes.
The Toadstool Millionaires, Chapter 12: Medicine Show, by James Harvey Young
Wikipedia's Medicine Show page
U.S. Library of Medical History's page on medical shows. The overview is brief, but there are some great little poster images.
Snake Oil: Patent Medicines
This heading is kind of unfair. Not all patent medicines were quackery. In fact, not all patent medicines were even patent medicines. Proprietary medicine is more accurate most of the time; not all of those who manufactured medicines ever bothered with a patent, primarily because that would've involved admitting what was actually going into the bottle. Also, many of these medicines actually worked, not that this meant they were good or safe for their intended patients. For example, there were nostrums marketed as being ideal for soothing children that contained opium.
One of the many skeletons in the patent medicine closet is the fact that many of them were used as a substitute for liquor both before and during Prohibition. The preparations often contained alcohol; sometimes as a preservative, but more often for flavor and effect. As a result of this, they were often abused. The Jake Leg epidemic (see Gingerfoot, below) was one result of abuse of patent medicines.
Surprise! Patent medicines are still with us. All of the following were originally marketed as patent or proprietary medicines: Anacin, Bayer, Luden's Throat Drops, Phillips' Milk of Magnesia, Vick's VapoRub, Angostura Bitters, Coca-Cola, and tonic water…and that's just a random sampling. There are lots more.
The Toadstool Millionaires: A Social History of Patent Medicines in America Before Regulation by James Harvey Young. This is a really fantastic book available in its entirety online.
Wikipedia's Patent Medicine page
Gingerfoot: The Jake Leg Epidemic
Chevalier Alpheus Nervine: Amber Therapy
Herr Doktor Thaddeus Argonault: Phrenology
Doctor Paracelsus Vorticelt: Magnetism
Doctor Willoughby Acquetus: Hydrotherapy
The Devil in Folklore
The Jack Tales
The Chesterlane Eidolon: Bicycles, in Brief
Doc Fitzwater's Winton
Photography of the Dead
In The Boneshaker, the first complete story Natalie learns through the phantasmata is the story of Dr. Jasper Bellinspire. A major part of the circumstances that bring Bellinspire to the crossroads is a photographer who travels the country taking photographs of children who have died from a diphtheria epidemic. As morbid as this sounds–and it's plenty morbid–post-mortem, or memorial, photography was and is a real thing.
Memorial photography had its heyday during the second half of the nineteenth century, after the daguerrotype was introduced in 1839. It's easy to forget nowadays, when so many of us own cell phones and compact digital cameras, how limited the average family's access to photography really was. The chemicals necessary to capture an image were corrosive and dangerous, and daguerrotype images, even after they were captured, were tremendously fragile and could be damaged or rubbed off of the silvered plates they were printed on. The net effect was that it wasn't every day that a family could have a picture taken, and not every family ever managed to own portraits of their loved ones. Many people, given the choice, preferred to have pictures of dead loved ones to having no pictures of them at all.
There were other reasons post-mortem pictures might be taken–portraits of criminals were taken, for example, sometimes to prove they were dead, sometimes as cautionary warnings to other would-be evildoers.