I have the following bits of excitement available if you think they would be useful in your classrooms or libraries.
Signed books. Send copies you'd like signed (with return postage, please; I recommend using media mail unless time is of particular essence) to:
Kate Milford 
PO Box 205446 
Brooklyn, NY 11220
Posters for The Boneshaker, signed or unsigned. They look like this: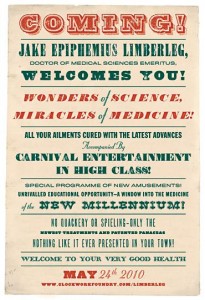 Signed bookplates. I make them by hand because one week I couldn't find simple ones suitable for signing that I liked, and the following week I was really bored and this is what happens when I get bored: I figured out how to make homemade bookplates. They are decorated with either a bee (from Natalie's bee jar) or a bicycle.
Crossroads postcards. These are self-addressed, stamped postcards (the images will vary based on what I have in stock), and I'll send them to you in classroom quantities if you will commit to having your students using them to write to me. I call them crossroads postcards because when I do school visits, I usually ask the class to write to me about a crossroads they have experienced (to tie them into discussions related to The Boneshaker), but any subject is fine. In return, I will write a letter back to your class in response, or, if you prefer, we can schedule a Skype visit to answer their questions "in person."
Postcards from the Odd Trails journals. This is a simple project I'm working on, inspired by my love of journals and the belief that every blank page has infinite potential. It begins with one person making one page his or her own, with text, a drawing, something pasted inside, whatever. Then that person passes the journal on to someone else. When the journal is full, send it back to me and I'll reimburse your shipping, up to $5.