I'm not even going to look at when my last blog post was. But three months ago I had a kid, and they were right (because they all told me I would get negative-everything done). I have been getting nothing done.
Except I have been getting some stuff done. Since June 12th, I have done the following, in the following order:
1) Had a baby.
2) Completed my first round of offical Greenglass House edits.
3) Nearly finished Bluecrowne. And by "nearly," I mean I hit page 155 of what was supposed to stay (for budgeting purposes) under 120, which was roughly the length of The Kairos Mechanism.
4) Conferred with my ace Kid Editors about Greenglass House in preparation for the next round of edits, which I expect to receive this week or beginning of next. Once again, they delivered. These young readers are AWESOME and thoroughly deserve having their praises sung in capital letters.
5) Read the following approximately a hundred times each in the last week alone: 
Red Truck
Orange Pear Apple Bear
Polar Bear Night
Wherever You Are My Love Will Find You
Brown Bear Brown Bear What Do You See? 
If You Want to See a Whale
I have also done the dishes several times.
You'll shortly be hearing more about Greenglass House. Among other things, Ana and Thea, the fabulous ladies at Book Smugglers, have offered to do a reveal for the cover, so there'll be that excitement. And the cover is amazing, folks. Jaime Zollars is the artist, and although I'm fairly certain she's never been to Nagspeake, she managed to capture my beloved home-away-from-home perfectly. (Greenglass House comes out in August of next year, but it's already available to preorder here and there around the interwebs.)
But since I had initially thought I'd be releasing the next Arcana Project novella this summer and clearly that's not happening, let's talk Bluecrowne.
Thing number one: I don't think I can reasonably call it a novella anymore, since by my best guess it's going to come in around 175 pages. Thing number two: this throws all my previous calculations out the window. And by "all my previous calculations" I mean my budget. Which is fine, considering I haven't put together anything in the way of a crowdfunding campaign yet. My initial reluctance to do that before now was due to the fact that I didn't feel right somehow putting up a campaign when the book wasn't done. I now see how very pragmatic I was being, even though at the time I thought I was just being paranoid.
There's also the fact that my slower post-baby writing pace has implications for everyone else involved with this book, including (but not limited to) the wonderful Andrea Offermann, who's returning for the Bluecrowne cover. 
So here's the new plan: I'd like to have Bluecrowne to you for the holidays. This still depends on a lot of factors, but I think it's doable.
I would like not to depend on crowdfunding at some point, but as you see from the progress bar on the right-hand sidebar, I'm nowhere close to having enough in the bank for my original budget yet. Since Bluecrowne's going to come in so much longer, I'll be printing fewer paperbacks to start with, but other things like the costs of paying the editor and the reader artists will go up. So there will be a Bluecrowne Kickstarter campaign, I suspect in mid-October, or whenever I get the next Greenglass House edits turned in. And once again there will be a whole bazaar of fun rewards, including another previously-unseen story from The Raconteur's Commonplace Book in the ebook for Kickstarter backers. (What's The Raconteur's Commonplace Book? You'll have to wait for Greenglass House for the answer to that.) And once again the fundraising will include money to commission a dozen or so young artists to illustrate a special edition. (Don't want to wait until October to help out? You rock. Click here.)
What will you encounter in Bluecrowne? Well, you'll meet some new friends and those of you who haven't yet visited the Sovereign City of Nagspeake will get your first glimpse. But some old friends from all three of my previous books will be returning, too. No, I won't say who. Not yet, anyway. 🙂 So ends this status report from Milford Command Central. Comments? Questions? No? Great. Here. Have a picture of a few of the research books involved in Bluecrowne, Greenglass House, and The Left-Handed Fate.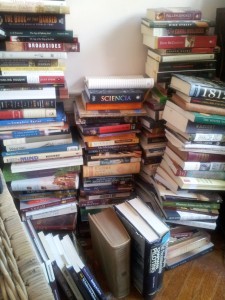 That's right. I said "a few."