Well, we're in the home stretch: just 24 days (as of July 30) until the launch of The Left-Handed Fate! And I hope like anything that you're counting down the days, too.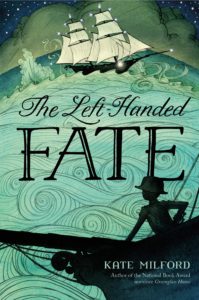 So, hey! Let's talk about pre-orders. Some of you might know that I have strong feelings about the importance of independent bookstores. So for folks pre-ordering The Left-Handed Fate, if you pre-order from one of these bookmongers, I have a special gift for you. Actually, four special gifts, because each shop has something different. Order from any (or all!); they're all happy to ship books anywhere in the country.
McNally Jackson Books, Soho, NYC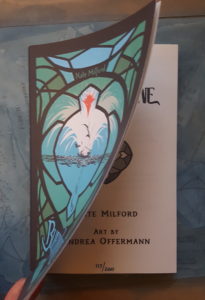 The first 40 customers to pre-order from McNally Jackson will receive a numbered and signed paperback copy of Bluecrowne from the original 200-copy printing funded by Kickstarter and printed in the store on the Espresso Book Machine. Bluecrowne, for those who don't know, is the first adventure of Lucy Bluecrowne, one of the main characters of The Left-Handed Fate, in the city of Nagspeake. It's a standalone story, as is LHF–you don't have to read Bluecrowne first–but you'll definitely have special insights and information if you do. Order here. 
Little Shop of Stories, Decatur, GA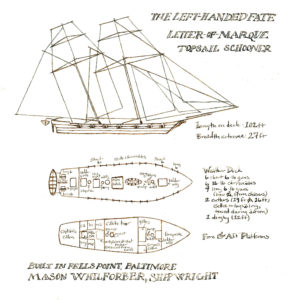 The first fifty customers to pre-order The Left-Handed Fate from Little Shop of Stories will receive a letter-sized print of an architectural drawing of the topsail schooner letter-of-marque vessel, the Left-Handed Fate. This is a drawing I made for my own reference while writing and revising the book, only I fancied it up for you with some walnut ink and nice paper and some charmingly wobbly copperplate. (Note: by the time you receive your copy, the copperplate might be less wobbly and amusing, but I had to put something here to get this page up.) Order here.
Porter Square Books, Boston, MA
Customers who pre-order from Porter Square will receive a signed (and personalized, if you choose) handmade cut-paper bookplate. This is a thing I should probably not have done because I'm really not to be trusted with a knife this sharp. Also I cannibalized a vintage trigonometry book to do it. BUT THAT BOOK HAD IT COMING. (Note: Colors may vary, because I made this one before I knew what color the inside pages were.) Order here.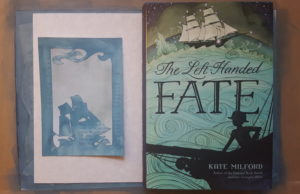 Oblong Books, Rhinebeck, NY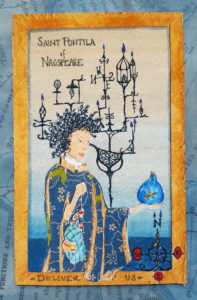 Customers who pre-order from Oblong Books will receive a bookmark in the form of a prayer card for Saint Pontila of Nagspeake, Patron Saint of Messages Sent in Bottles (to be clear, she looks out for the messages, not the senders or receivers, so invoke her at your peril). Those of you who've read The Broken Lands will already know a little about my fascination with prayer cards, although they have a different significance in The Left-Handed Fate.  Order here.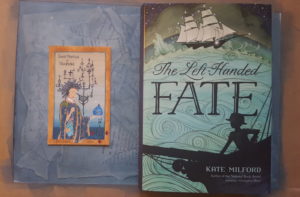 Coming soon: launch party information! But if you're in the vicinity of NYC or Annapolis, MD, or plan to be at the end of August or need an excuse for a trip, mark your calendars!
NYC Launch: McNally Jackson Books, Tuesday, August 23 7pm. All ages welcome.
Annapolis Launch: Barnes and Noble Annapolis, Thursday, August 25, 6pm. All ages welcome.