A couple months ago when I thought maybe, maybe if I tried really hard, I'd manage a couple blog posts a week leading up to launch time, I asked some friends what would make good topics, because I am notoriously bad at figuring out what kinds of things might be interesting to the reader who just happens to land here. Dylan Meconis said she's always interested in what the biggest challenge of a given project is, which got me thinking and ultimately resulted in a very short list of "biggests" related to The Left-Handed Fate. Here it is.
Biggest challenge of the writing (thank you, Dylan!):
I think there were two.
The first was being detailed enough about the nautical elements of the story for it to pass muster with people who love boats and can spot inaccuracies but not so obsessive about nautical stuff that it pulls readers out of the story. I like to use fun vocabulary generally, so using the same tricks that allow you to confidently toss around uncommon and lengthy words in books for kids helped here. It was also really helpful to have one protagonist who isn't a sailor and hasn't gotten confident with terminology or architecture or really any of the practicalities of sailing. Any time I figure Max would need something explained or spelled out, I figure a reader will, too (and vice versa).
The second was making the War of 1812 accessible. I loved writing about this war because I think it's relevant today for a lot of reasons, but if you'd asked me what it was really all about before I started researching I'd have had a hard time answering. It's not one of the wars you learn much about in school, and it's not easily reduced to a single memorable issue that sticks in the memory like the American Revolution, the Civil War, or World War 2. Plus, we didn't win the War of 1812. We got trounced by Canada, fought to maybe a draw, and even the final treaty ignored one of the primary grievances we had with England. And while it was consequential for the United States, the War of 1812 was basically a spoiler conflict happening at the margins of the wars happening in Europe. It's a fascinating moment, but it was hard to pin down without getting overly lecturey and expositional.
Biggest fear about the book: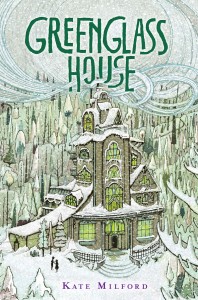 This one's easy, and my friends and family already know the answer. I'm afraid people will be disappointed that The Left-Handed Fate isn't like Greenglass House. Yes, it returns to Nagspeake, which was a total joy, but it isn't cozy. It falls somewhere in the space between Greenglass House and The Boneshaker: a little more darkness than Milo's story, a little more humor than Natalie's. And there's a hint of The Broken Lands in there, too, and not just because Liao is a character in both. Folks who've read all three of the earlier books (or five, if you count the Arcana companion books) know that Greenglass House is the outlier, but so many more people read Greenglass House than the others, it's hard not to be worried.
But in the end, if there's one thing I have learned as a bookseller, it's that not all books are for all readers. Still, it's hard to apply that to my own books, when of course I want everyone in the world to love them all, especially the new one that I love to an unreasonable degree–but that's plainly unrealistic. So this book won't be for everyone, and that's okay. And anyway, there's Ghosts of Greenglass House coming out next year, so that's comforting, too.
Biggest research problem:
Working out the architecture of the actual vessel called the Left-Handed Fate. But initially I wanted the Fate to be a really oddball vessel that looked nothing like anything else on the water–for those who've read Patrick O'Brian, I was thinking a bit about the "carpenter's mistake," the HMS Polychrest, if the "innovations" that made the Polychrest so dysfunctional had actually worked. But as I wrote I realized that constructing a ship like that was really outside my capability if I wanted to keep the nautical elements of the book realistic.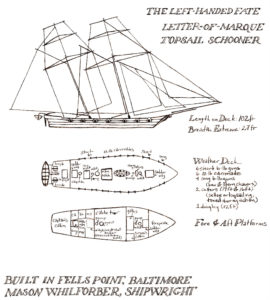 Once I let go of that idea, I wanted the Fate to be a Baltimore-built clipper, which really became a thing just after the era of the book. So she became a topsail schooner that incorporated elements of some of the other types of vessels that influenced the builders of what would come to be called clippers. And really what kept messing with me was the lower deck layout. It took me so long to get around to nailing that down that Eliza Wheeler (whose patience is really one of the wonders of the world) had already begun drawing and both of us had to revise what we'd done to match the final layout.
Biggest hope for the book:
That it does well enough to justify returning to this era and these characters in another full-length novel. I think that's always my biggest hope when a book comes out. I fall so deeply in love with the characters that I want to return to them again and again. Even though I'm supposed to be working on other things, ideas are already starting to swirl. I hope, I hope, I hope.